Delivery & Payments
Searching C aims to deliver your items in the fastest time possible!
We ship your order via courier services for delivery. We will send you the tracking numbers once the parel is shipped out.
We accept credit card payment (including Visa, MasterCard and American Express) and Apple Pay.
Contact us
Email: sg@searchingc.com
Overview
AirView wireless touchscreen bring you advanced touchable multi-touch screen without cable need.
More advantages of wireless IPS full-laminated touchscreen.
Touchable wirelessly and wired all supported.

Support any mobile devices and smartphones video display.

Support wireless smartphone desktop as well as cabled.

Both USB-C and HDMI video-in support.

Support both Android & iPhone mirror screen or desktop mode.

Faster response times, minimal input lag.

Ultra-wide 178-degree vertical and horizontal viewing angles.

sRGB 100% color space, optimal color/contrast than other panels.

Outstanding color accuracy and screen consistency.

Fully laminated, higher optical transparency (>94%), brilliant color clarity and brightness, perfect for indoor and outdoor use.

Built-in battery 10500mAh, lightweight and thinness for mobility.

Just wired portable monitor? No way. AirView is an entire suite of office and entertainment features packed into the advanced portable touchscreen monitor ever. It's your wireless screen, it's your dock, it's your charger, it's your speakers, and it's fully customizable to be whatever else you need. Get rid of all the cable or clutter in your briefcase or backpack. Now it's deliverable worldwide, no wait, instant obtainable via crowdfunding.
How many wires and gadgets are linked to your computer right now? AirView liberates you from clutter and streamlines your productivity by combining all the features you need into one wireless, touchable, ultra-bright monitor.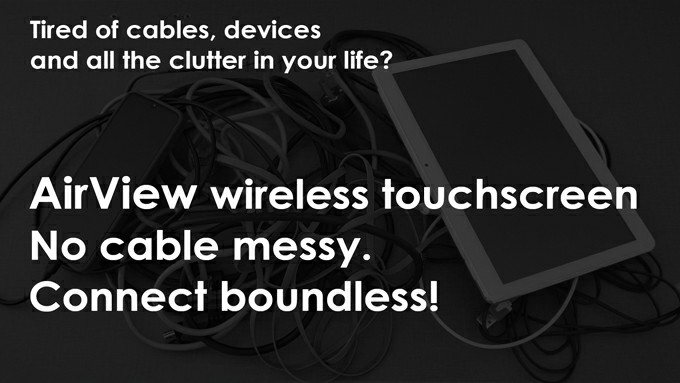 How long you have been expecting a touchable wireless display? Now it's come true. How much more could you get done by connecting any devices with a touchable display? AirView ultra-responsive touchscreen is perfect for any usages of wireless or wired monitor circumstance. Not only for tranditional laptop, game station or PC, but also for smartphone or mobile devices, and they can become mobile desktop. Wireless touch give you boundless connection of various devices touchable.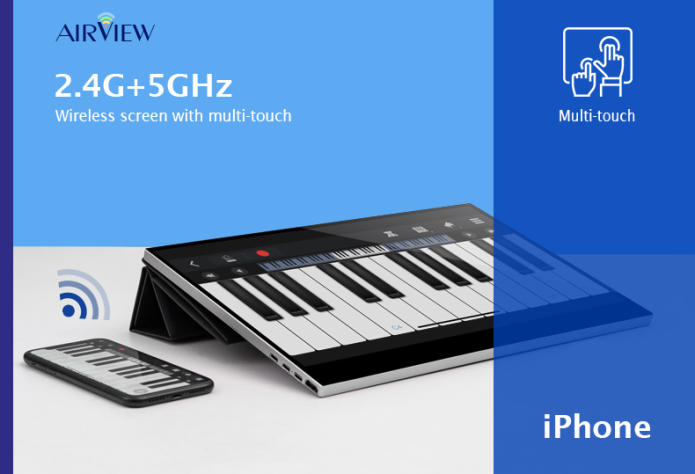 AirView is not a common wireless display. Forget other impossible products. AirView already fully support Apple iPhone wireless touchable. Beyond your imagnation, many feature are come true and not been constrained by cable anymore.
**Touchscreen function only available with/below iOS 13.3.

For smartphone desktop, AirView not just support type-c cabled touchable, it can also support wireless desktop as long as the smartphone has wireless desktop enabled. Once you got AirView, you never fall behind in the future. More and more smartphones have built-in desktop mode as Android 10 onward coming popular.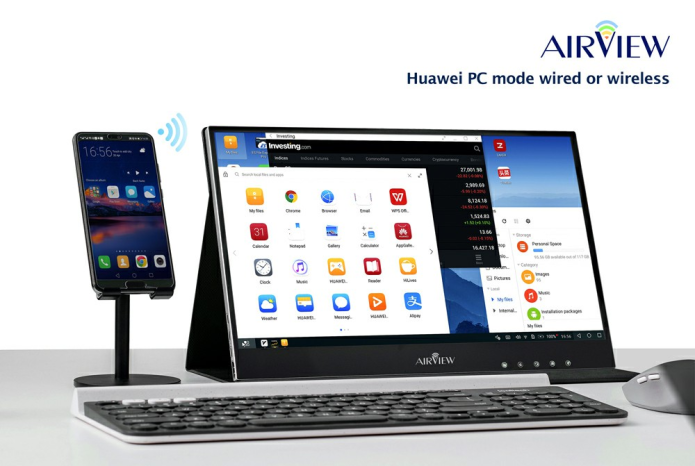 For smartphone wireless desktop, AirView is a super optimal companion of them. Extremely convenient and advanced. For instance, TNT desktop give you more advanced feature than others.
Here has more details: youtu.be/i9bc2ko-a8k
Smartisan smartphone are available in our website. It's so premium to have full pack of AirView & TNT desktop together.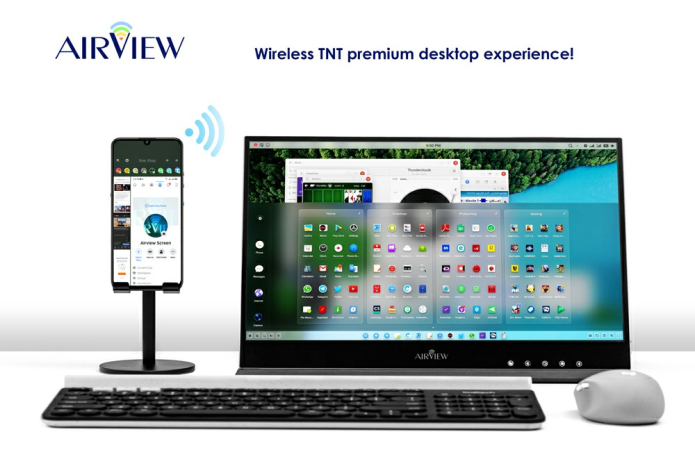 AirView built-in long last battery support joyful gaming anywhere. With type-c new technology, AirView supports any DP alt mode devices over USB-C with screen touchable. Which means not only Nintendo Switch, but also other Android games, iPhone games are all playable and touchable over wired or wirelessly.
Whether desktop gamer, mobile gamer or just leisure, the versatile AirView turn up the game with more details display, color space and clarity. With Hi-Fi sound, playing really joyful immersively.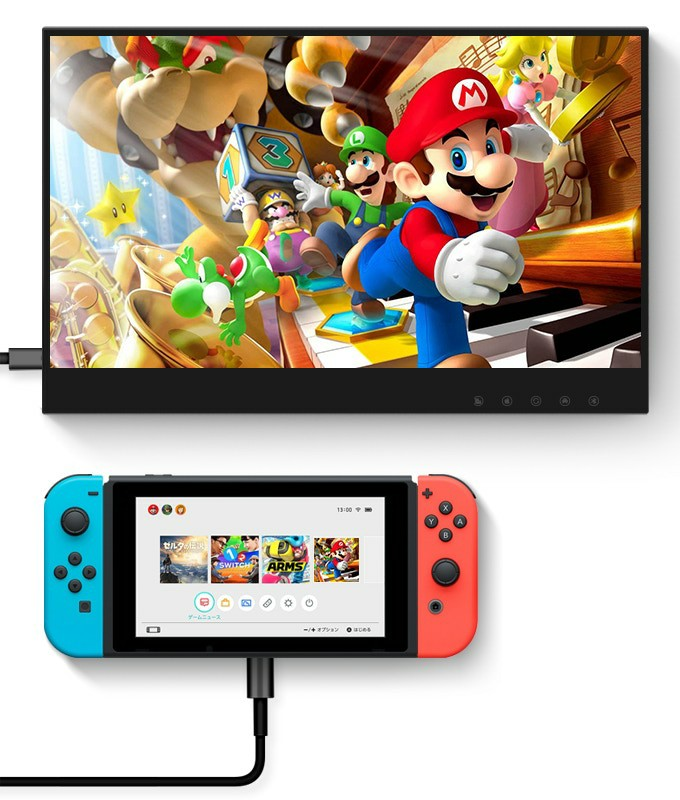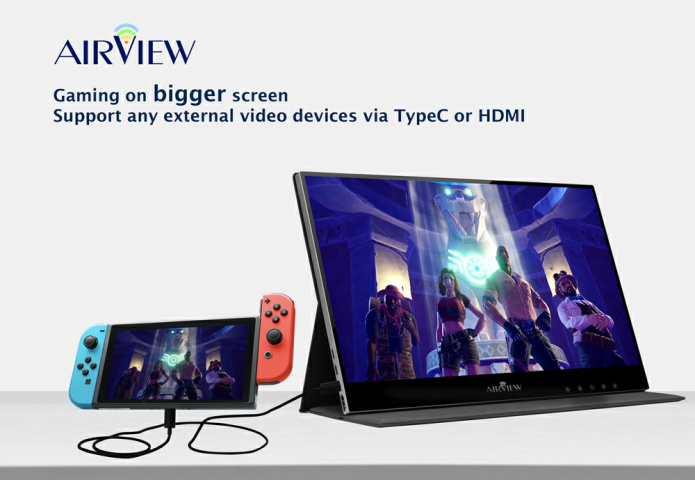 AirView has wide frequency range and higher sensitivity rating stereo speakers. These integrated speakers provide robust, crystal-clear, and natural sound reproduction, so all of audio scenes sound impressive great.
Audio engineers, composers, musicians, and music lovers will benefit from dynamic, rich sound no matter where they go. When working on a laptop, two extra speakers make all the difference when mixing tracks and editing. When on a phone or tablet, AirView transforms your media into a cinematic experience with crystal clear audio.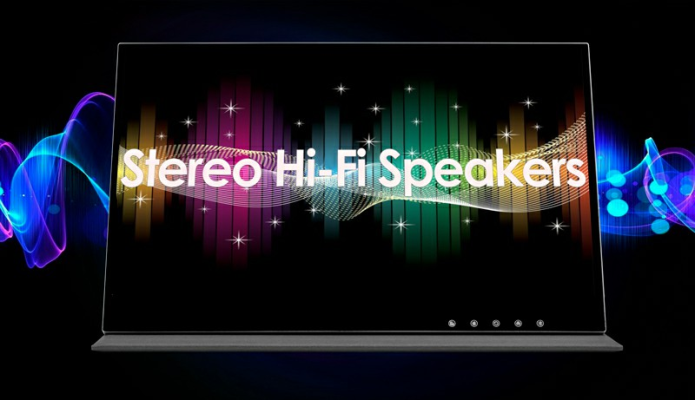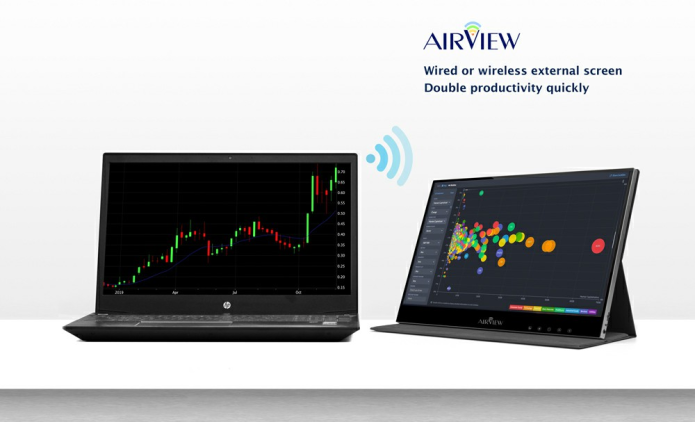 AirView beyond common touchscreen monitor, even for producer, vlogger, photographer, filmmaker, director can monitor on-camera videos while shooting without cable constraint. Professionals can see more details on bigger screen, and real-time control each element via touch.
For computer or mobile users, AirView support wired/wireless touchable and built-in battery give more flexibilities and mobilities. Whatever in any circumstance, AirView is full comperhensive capbilities support your usages.

AirView as car infotainment system give you unlimited connectivities to your smartphone and car integration. Over APPs abilities, you will get much more advanced than your built-in navigation system thanks to APP's fantastic features like Car Connectivity, Real-time Traffic Information, Speed Limits, Fuel Prices, Voice Guided, Parking Services and more.

Fully laminated LCD display, greatly reduce glare and eliminating the air gap,combining the cover glass and touch panel layers. This offers higher optical transparency (>94%) than conventional display, resulting in brilliant color clarity and brightness, make your pictures even more transparent and colorful, perfect for indoor and outdoor use.
The surface of the screen is fully laminated with tempered glass and treated with electroplated oil-repellent layer to improve touch control Fluency and comfort, and screen protection.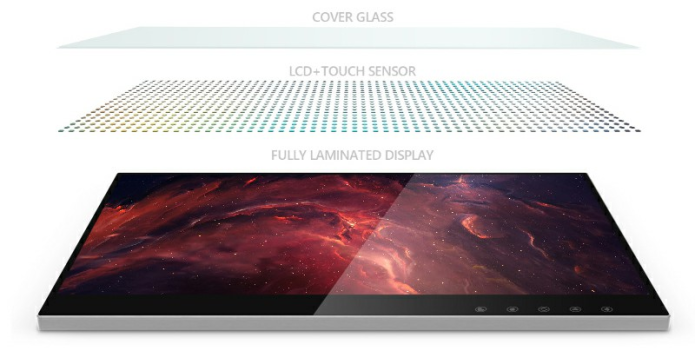 The spectacular 15.6-inch wide gamut display makes photos, videos and games look exquisite and vivid. And, thanks to the IPS panel's full-view technology, viewing from all angles is visually pleasing.

Two-way PD quick charging protocol, full charge just in 2 hours, you can play for 4 hours, and can be used as PD mobile power supply, charging your other devices at any time.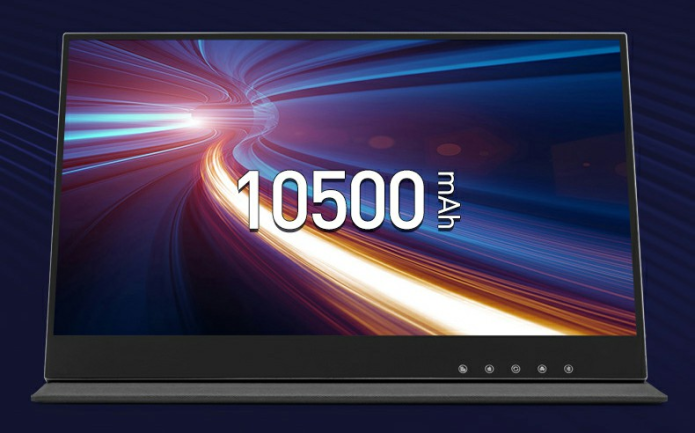 AirView wireless display is made of light aluminum alloy, lighter weight and better compression resistance, making it super easy to carry.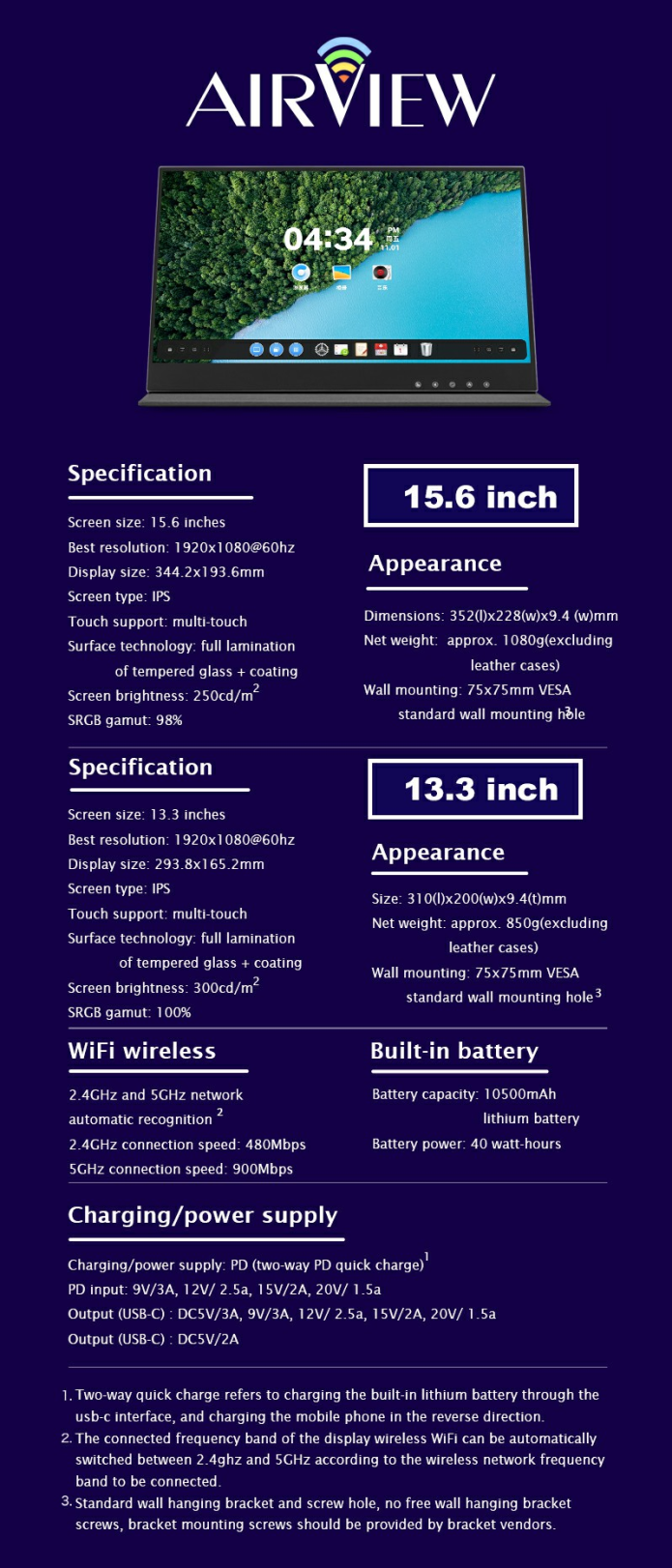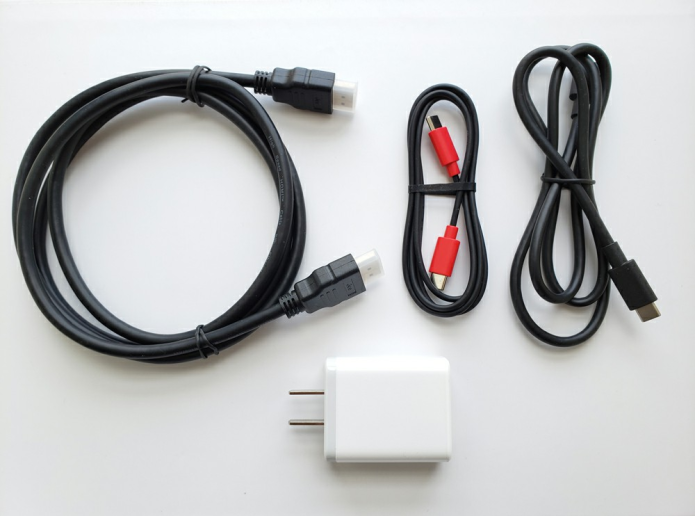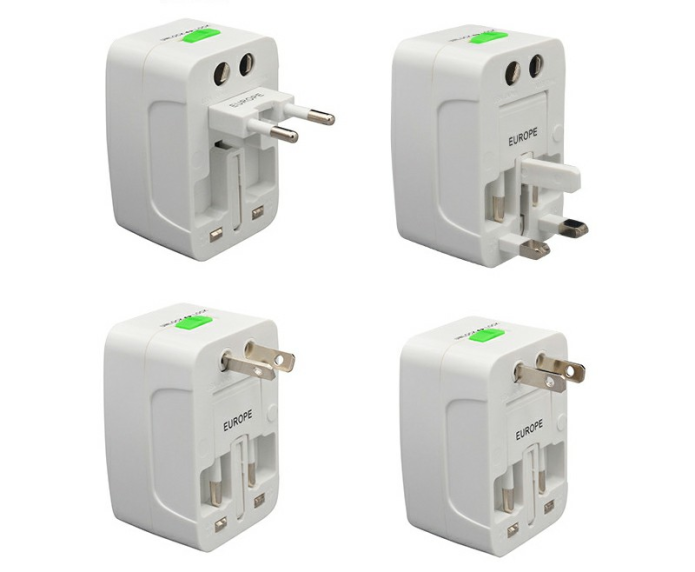 PD charger
Holster stand
USB-C charging cable
USB-C data cable
HDMI cable
Free universal travel adapter
1 Year Warranty
**Touchscreen function only available with/below iOS 13.3.