Delivery & Payments
Searching C aims to deliver your items in the fastest time possible!
We ship your order via courier services for delivery. We will send you the tracking numbers once the parel is shipped out.
We accept credit card payment (including Visa, MasterCard and American Express) and Apple Pay.
Contact us
Email: sg@searchingc.com
Overview
The Hand-Size Device that Cleans Your Clothes with the Power of Ultrasonic Technology.
The Gentle Care for Your Favorite Fashion and Delicates.
Wherever You Go Dolfi Can Too.
The Best Friend for Your Activewear.
Proper Care for Performance Outfits.
Remember those great delicate pieces of fashion hopelessly ruined by machine wash? Dolfi is the next generation cleaning technology: it's gentle on clothes, but tough on dirt. Your favorites will be thoroughly cleaned from inside out with the power of ultrasound without any damage.
and they will look like new wash, after wash, after wash....
Staying fresh while traveling is challenging. You either risk going over baggage limits with excess clothing, pay heavily for laundry service, or waste time searching for coin laundries. Don't like any of these options? Travel with Dolfi!
Dolfi is great for
Dolfi is great for everything you would normally hesitate to throw into a washing machine! With Dolfi, "Handwash Only" labels no longer apply.

Dolfi isn't just a pretty package - this compact but powerful device consumes about 80 times less energy than a conventional washing machine, helping you make a huge positive impact for the planet and, of course, for your wallet.
Save on every wash with Dolfi
With Dolfi you can save on dry cleaning cost for delicates, on hotel or laundry services while you're traveling and on overweight charges on your luggage from packing extra clothing.

You can have peace of mind knowing that your favorite delicates won't be ruined and that you won't run out of fresh clothes on your travels. With Dolfi, you can buy any kind of fashion you like and not worry about the "Hand wash only" label.


How does it work? It's amazingly simple...
Put your clothes in waterproof container, add water, detergent and Dolfi. Switch the device on and enjoy your free time!
The device will glow blue as it softly cleans your clothes. Blue light indicates ultrasound vibrations in the water. It works like magic!
After only 30-40 min, your clothes will be fresh and clean. Rinse them and hang to dry – you can wear your favorites again the next morning!
Dolfi is silent when working, so you wash during late hours without disturbing even the lightest of sleepers.
Need to run out the door while Dolfi's working?– No worries. It's completely safe to leave the Dolfi on past the standard cycle. In fact, doing so can even improve the washing results.
Does it really work?
Ultrasonic cleaning has been successfully used in industry and medical practices for years. Materials that require thorough but delicate cleaning, such as dental and surgical instruments, lenses, jewelry, watches and much more, trust only the ultrasonic touch. In industry, ultrasonic technology is applied to remove oil and grease from motors and other automotive parts. For years, ultrasonic cleaning has continuously proven to be highly effective and efficient.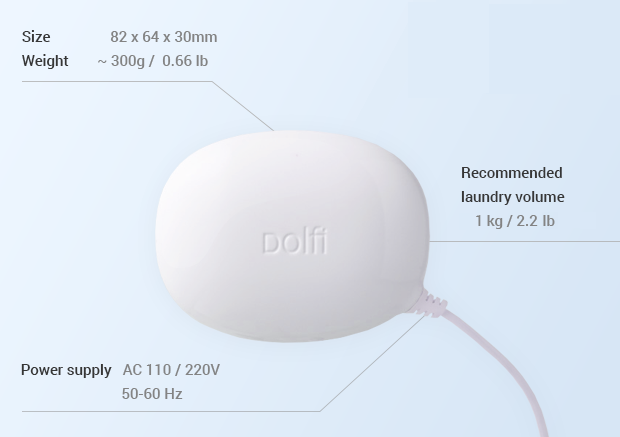 Here you can see the results that we achieved with our functional prototype:
The Technology
''If you want to find the secrets of the universe, think in terms of energy, frequency and vibration'' Nikola Tesla
Dolfi's powerful multi-frequency transducer creates precisely modulated wideband progressive sound waves, which travel through water and form microscopic high-pressure bubbles. The tiny bubbles then implode, creating millions of micro-jet liquid streams. Those invisible yet powerful streams safely wash away all dirt from fabric.
Specifications
Voltage: 100V - 240V AC

Frequency: 50 - 60Hz

Max voltage through cable: 12V DC

Max power: 24W

Weight: 350g (0.77 pounds)

Device Size: 9cm x 7.2cm x 3cm

Adapter size: 9cm x 7.2cm x 3.4cm

Cable length: 145cm

Washing load: 0.5 - 1.5kg

Washing Cycle: 60 mins

Water Volume: 5 - 10 liters

Max temperature: 40°C (104°F)