Delivery & Payments
Searching C aims to deliver your items in the fastest time possible!
We ship your order via courier services for delivery. We will send you the tracking numbers once the parel is shipped out.
We accept credit card payment (including Visa, MasterCard and American Express) and Apple Pay.
Contact us
Email: sg@searchingc.com
Overview
Special Bian Stone physical therapy relieves pain.
Bian stone therapy perform massaging.
4 massage heads included.
5 different speed levels.
The most percussions per minute.
Long-lasting battery.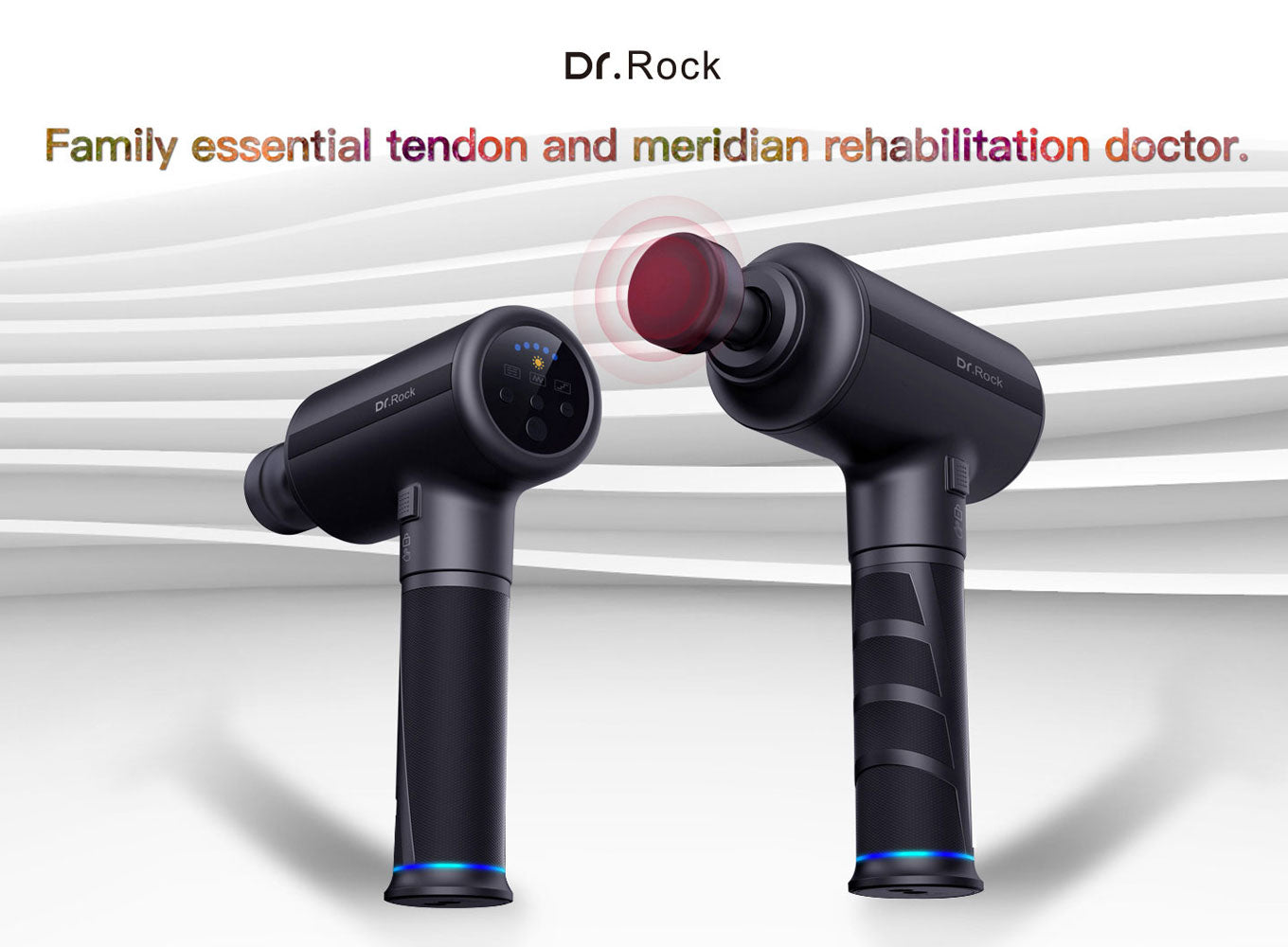 Bian Stone far infrared warm compress physiotherapyInnovative physical health physiotherapy methods, with the support from scientific and technological intelligence, improve the accessibility of the physiotherapy,reduce suffering. Improve blood and lymph circulation, relieve muscle spasm and atrophy, Hong Kong Dr.Rock provides far infrared warm compress physiotherapy series with automated intensive massage on muscle, ligaments can not only accurately reach the stiff and fatigue parts of the body, it can also introduce organic essential oil rapidly penetrate the skin tissue, more effectively alleviate various body pains.
A time to heal, wish health and peace to you.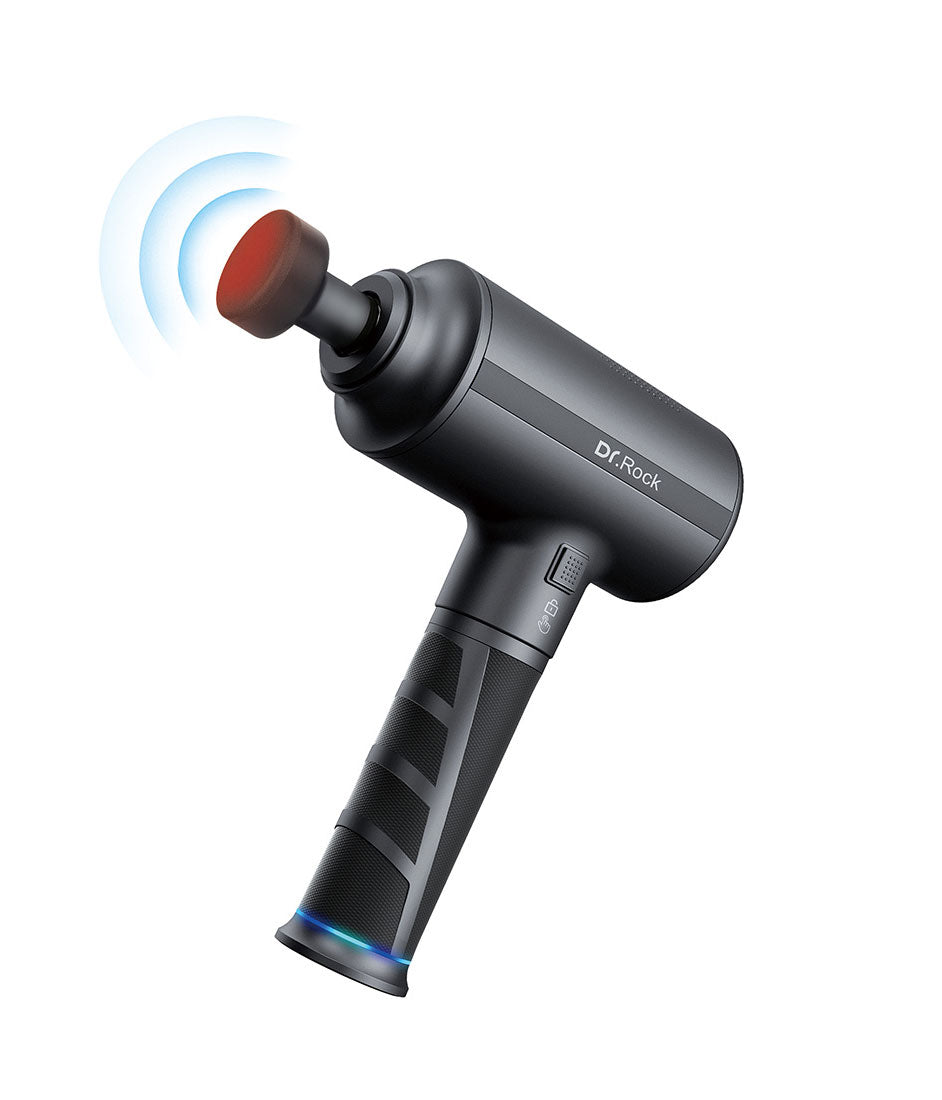 Bian Stone therapy
Bian stone therapy is one of humanity's oldest medical practices. The Bian-stone technique refers to the use of stone-based equipment to perform massaging, heating and other operations. Bian stone has been applied in Traditional Chinese Medicine for various soft tissue injuries, especially, cervical spondylosis, acute or chronic lower back pain, as well as skin disorders, such as abscesses or boils, and regulating qi and blood circulation.
Beneficial body minerals ∙ exothermic energy stone
Bian Stone is a natural meteorite that contains a lot of beneficial minerals, especially after heating, which emits far infrared and ultrasonic pulses. Through a large number of medical tests, these functions can relax the muscles, facilitate the blood circulation and relieve inflammation.
Tips:The treatment effect is the best when the Bian Stone physiotherapy probe is in contact with skin.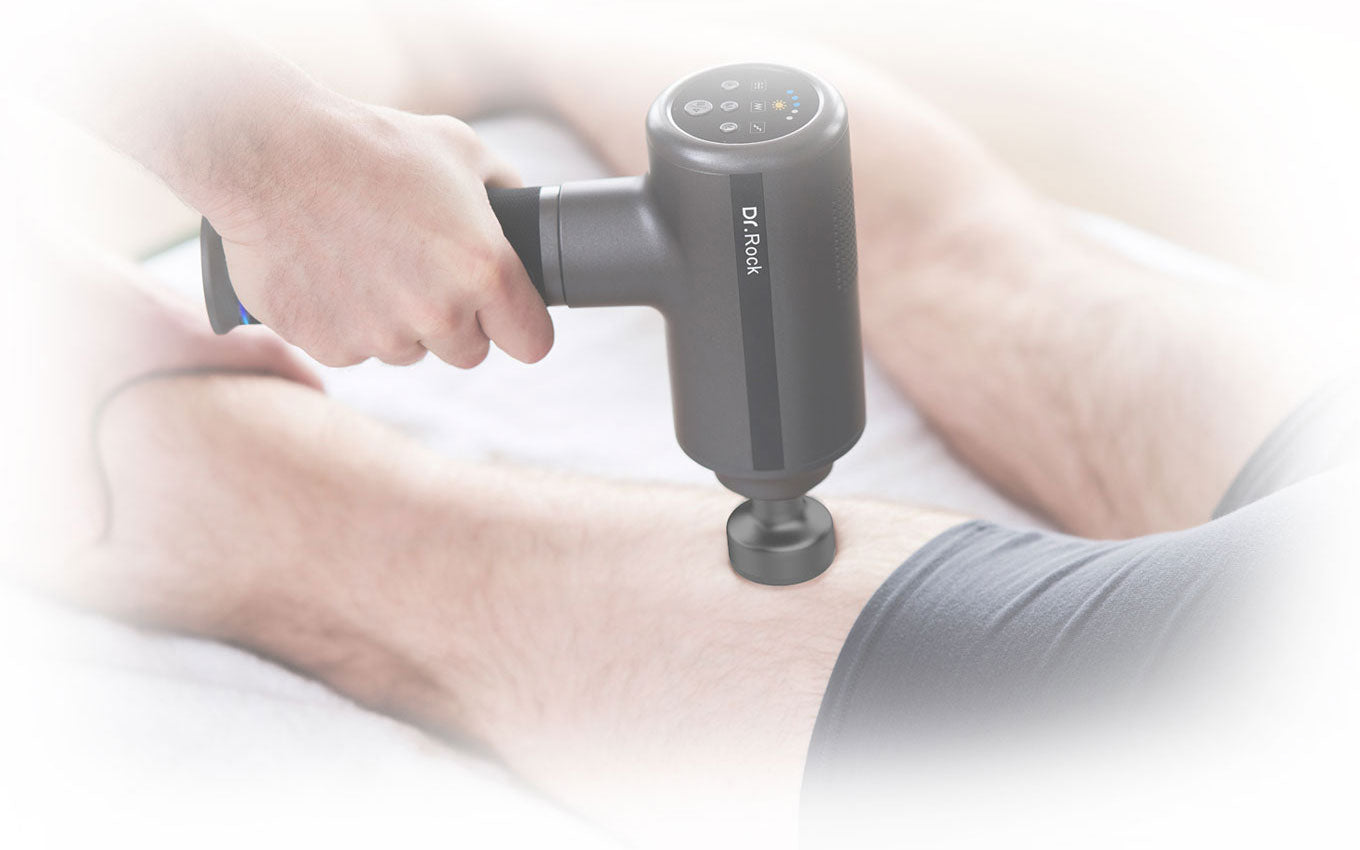 Intelligent heating multifunctional Bian Stone treatment head
Warm Bian Stone can conduct heat into the body deeply and then to the meridians through reflection.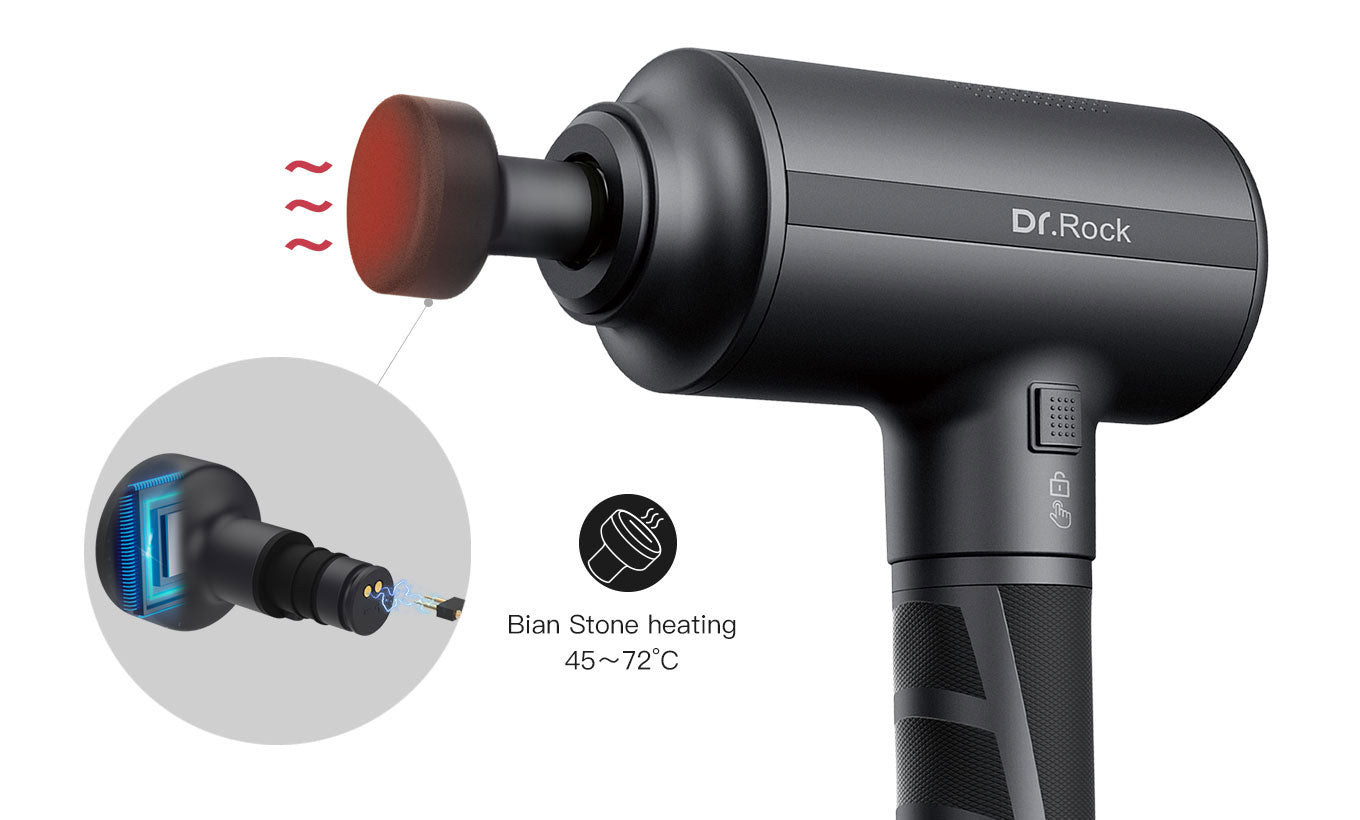 Far infrared ∙ Ultrasonic
Dr.Rock Bian Stone far infrared warm compress physiotherapy is a portable far infrared rehabilitation instrument for fascia and deep tissue inflammation treatment. The hot Bian Stone physiotherapy head can emit far infrared rays and ultrasonic pulses that are beneficial to the human body.
Remove the pains to return to good state
The specialized treatment can relieve sciatica, frozen shoulder, joint pain, muscle soreness, swelling, systemic meridian dredge and other pain.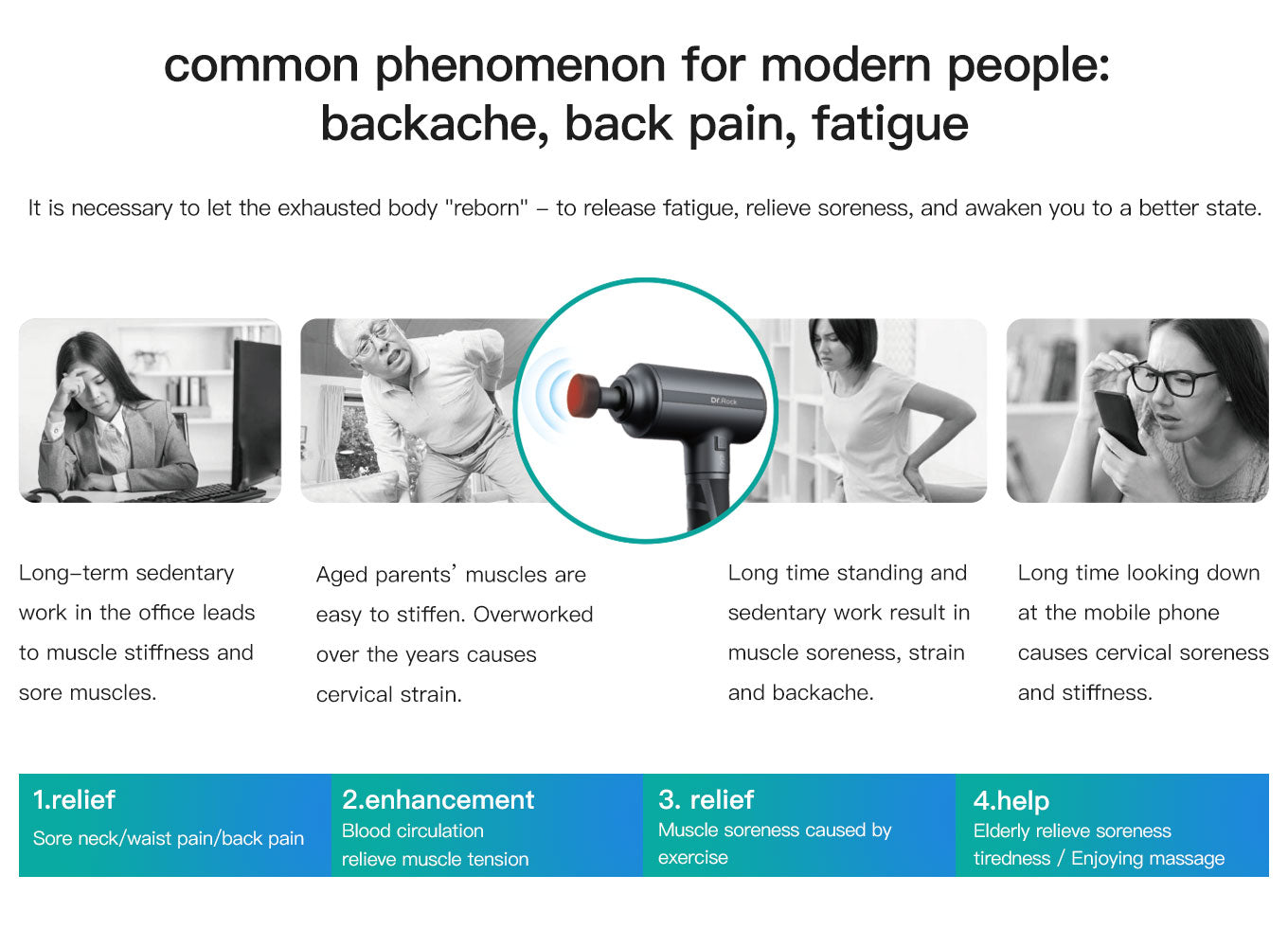 Excellent Battery Life
Long-lasting battery life of 2600mAh. Long-life energy storage lithium batter. The longest endurance for hot compress is about 22 hours!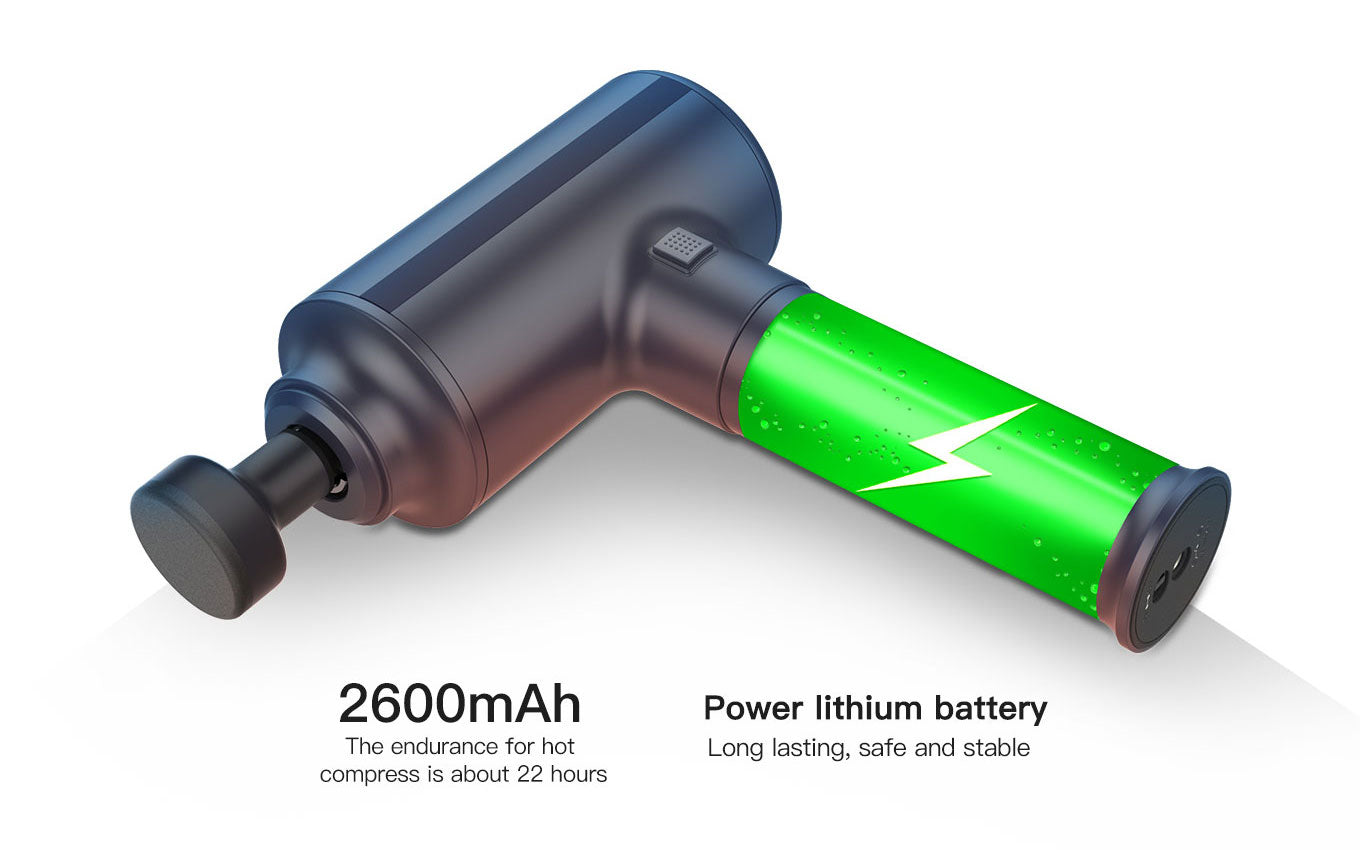 Carefully take care of every inch of muscle
4 interchangeable head attachments, soft head attachments for a comfortable treatment experience while reducing damage to the bone.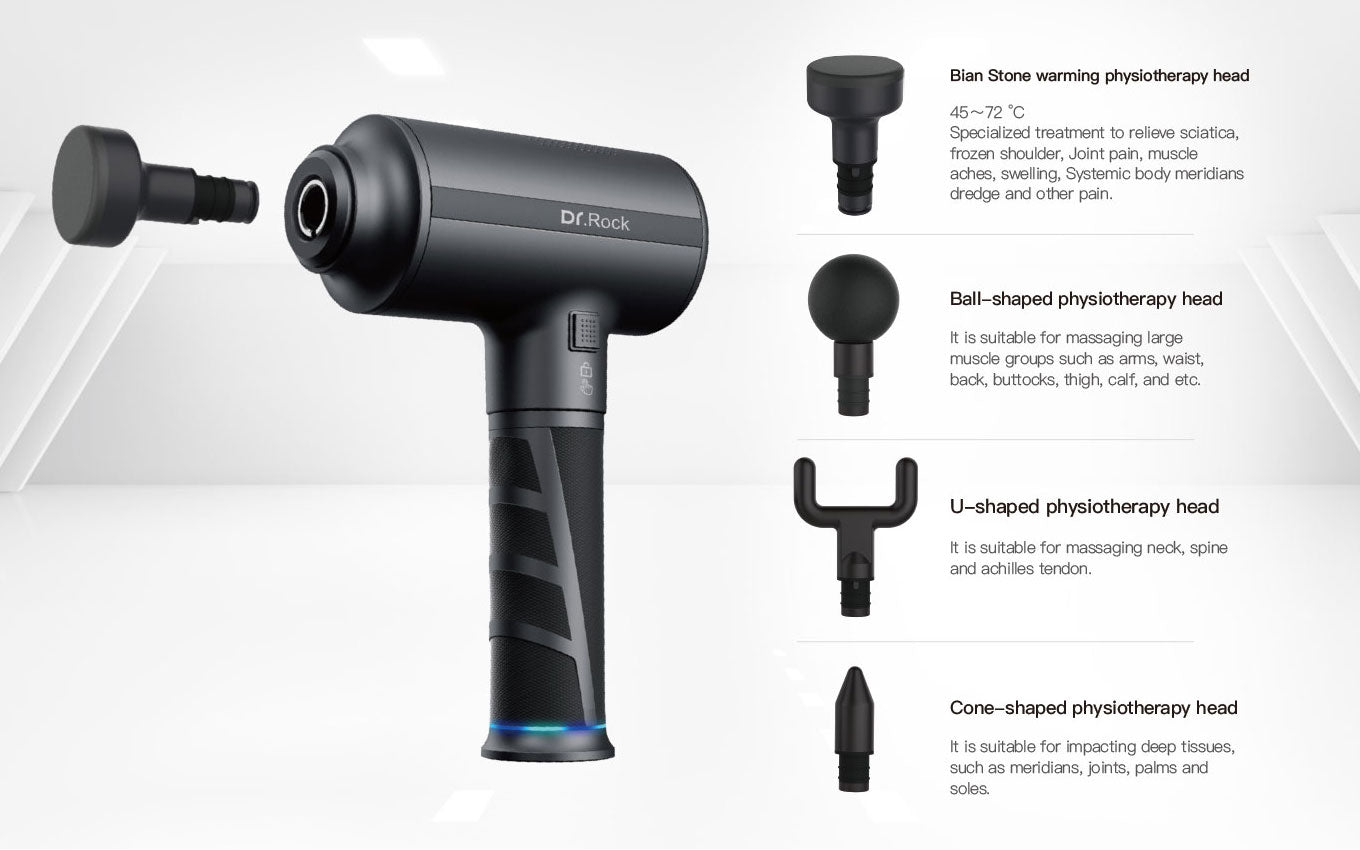 Five different speed levels • Deep percussive
5-speed high-frequency speed adjustment gear to meet a variety of different physical therapy needs, the maximum speed of 3200 rpm / min strong and powerful, the deep hammer beats the pain and instantly releases soreness.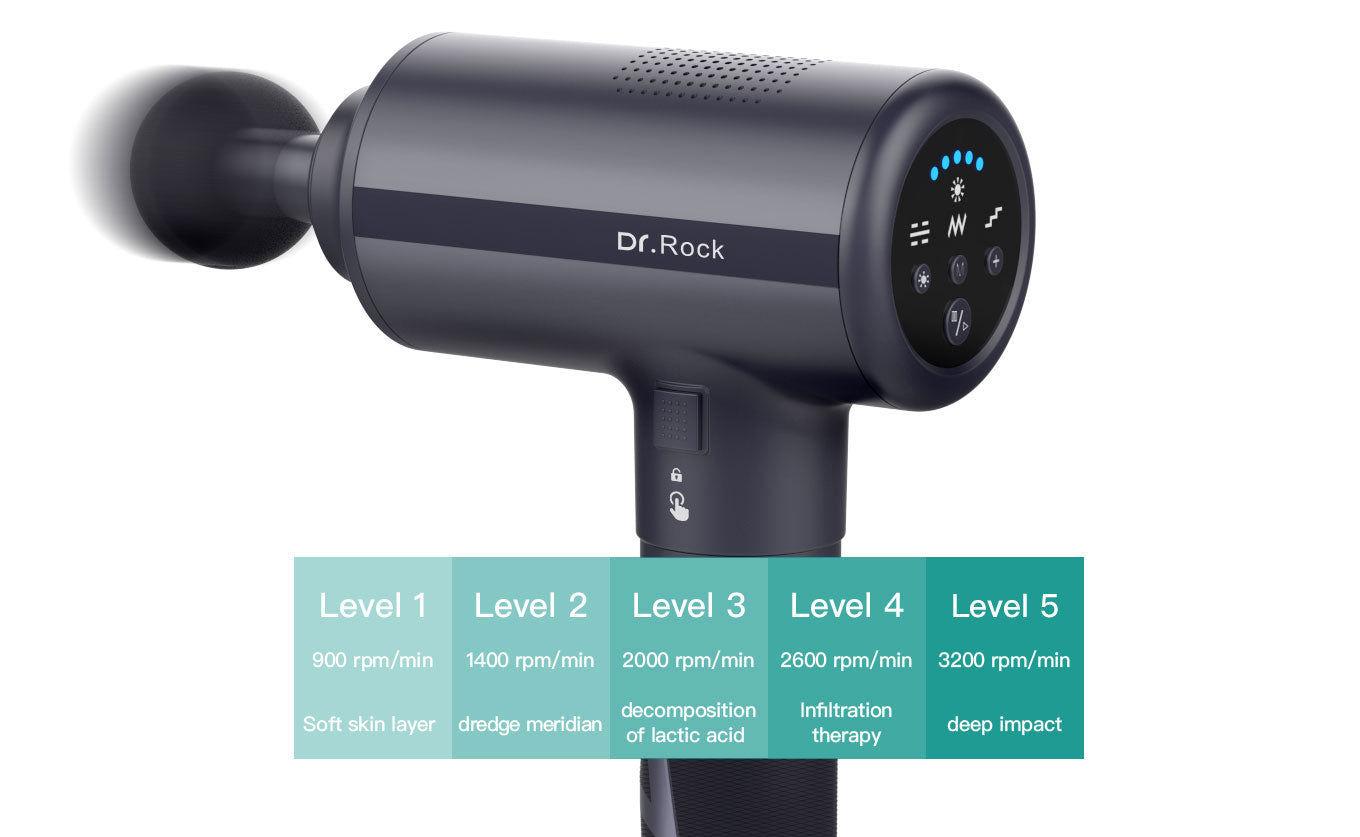 Multiple physiotherapy modes • Meet every demanding requirements
Five-speed frequency conversible vibration. If you are the first time using this physiotherapy instrument, you should start from level 1. Non-professionals, please be cautious when using the highest level.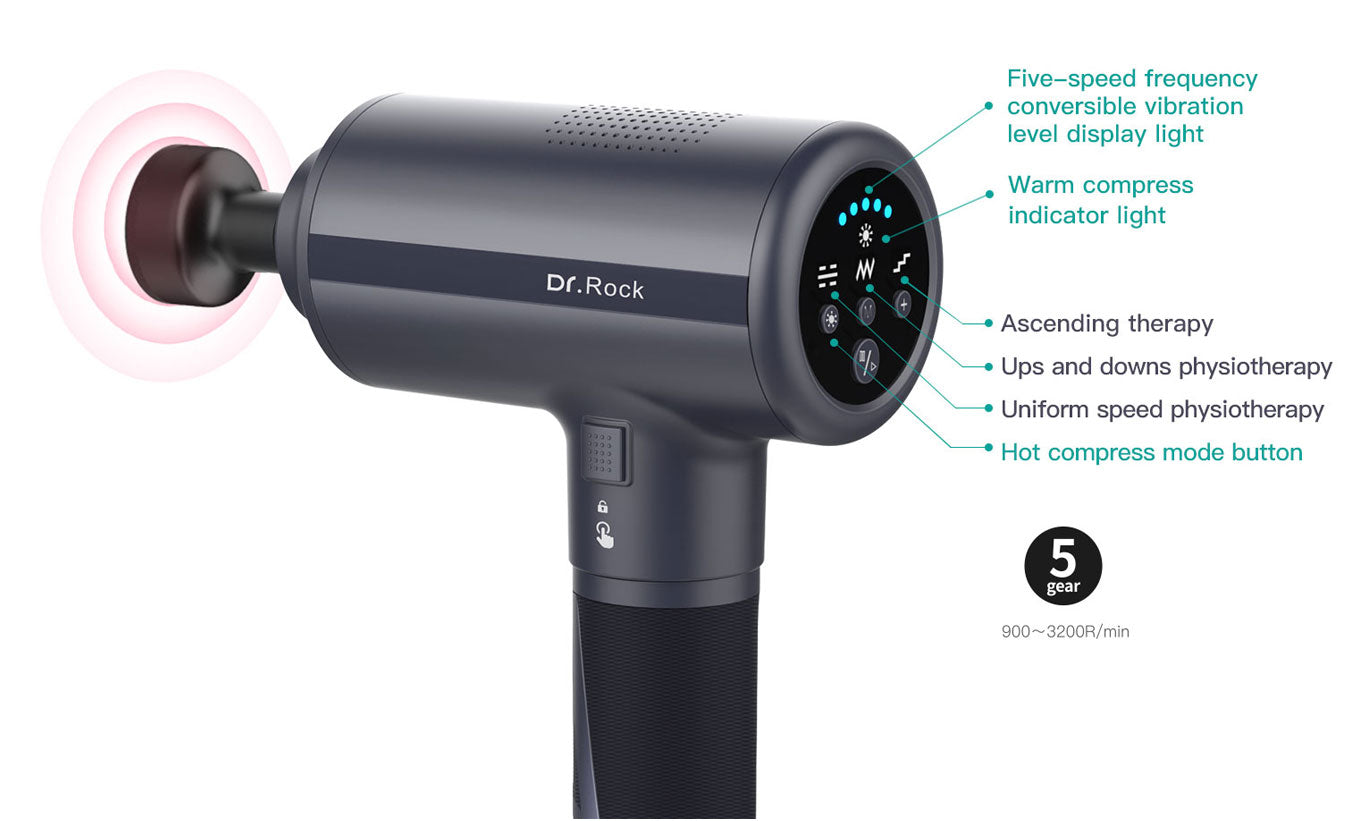 Powerful motor Destroy the sore point in the depths!
The high-performance, powerful brushless motor makes the high-frequency hammering powerful and powerful. Every stroke is just right. That is why it increases blood circulation. It provides you with relief from muscle pain as well.
User-friendly innovations Anti-sweat,anti-skid
The integrated L-shaped closed structure design, anti-sweat and anti-slip, sweating and dripping can also be used with peace of mind. Equipped with a simple air-cooling system, the space gray paint shell creates a simple and smooth line.
Ergonomic
The ergonomic handle
Humanize
Humanize control panel
Anti-sweat,anti-skid
Silicone handle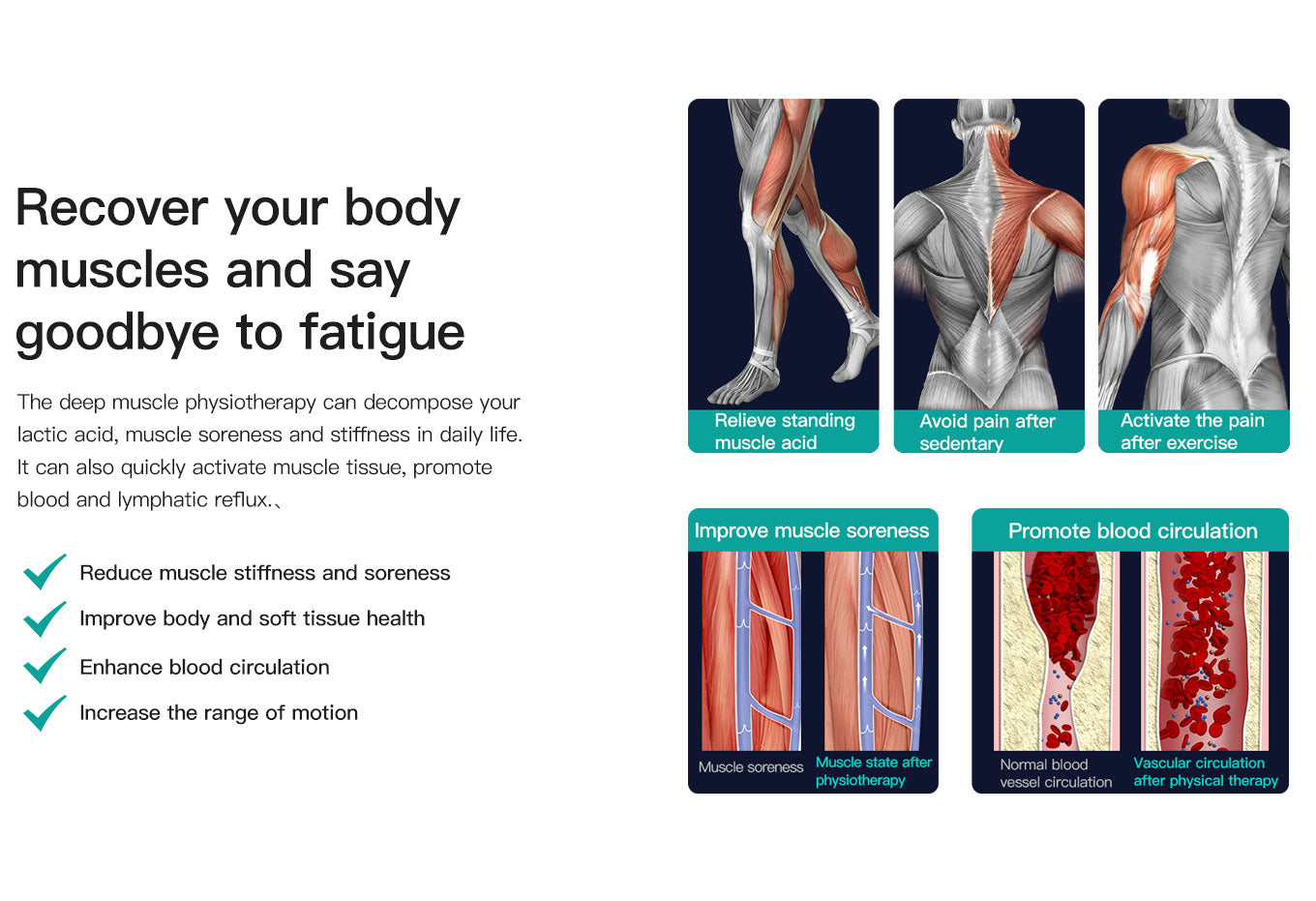 Handheld without numbness • Ultra silent design
Silent motor, bringing a strong driving force at the same time, greatly reduce the noise caused by braking, Low wear and quiet, longer life, and 50 db noise is not upset.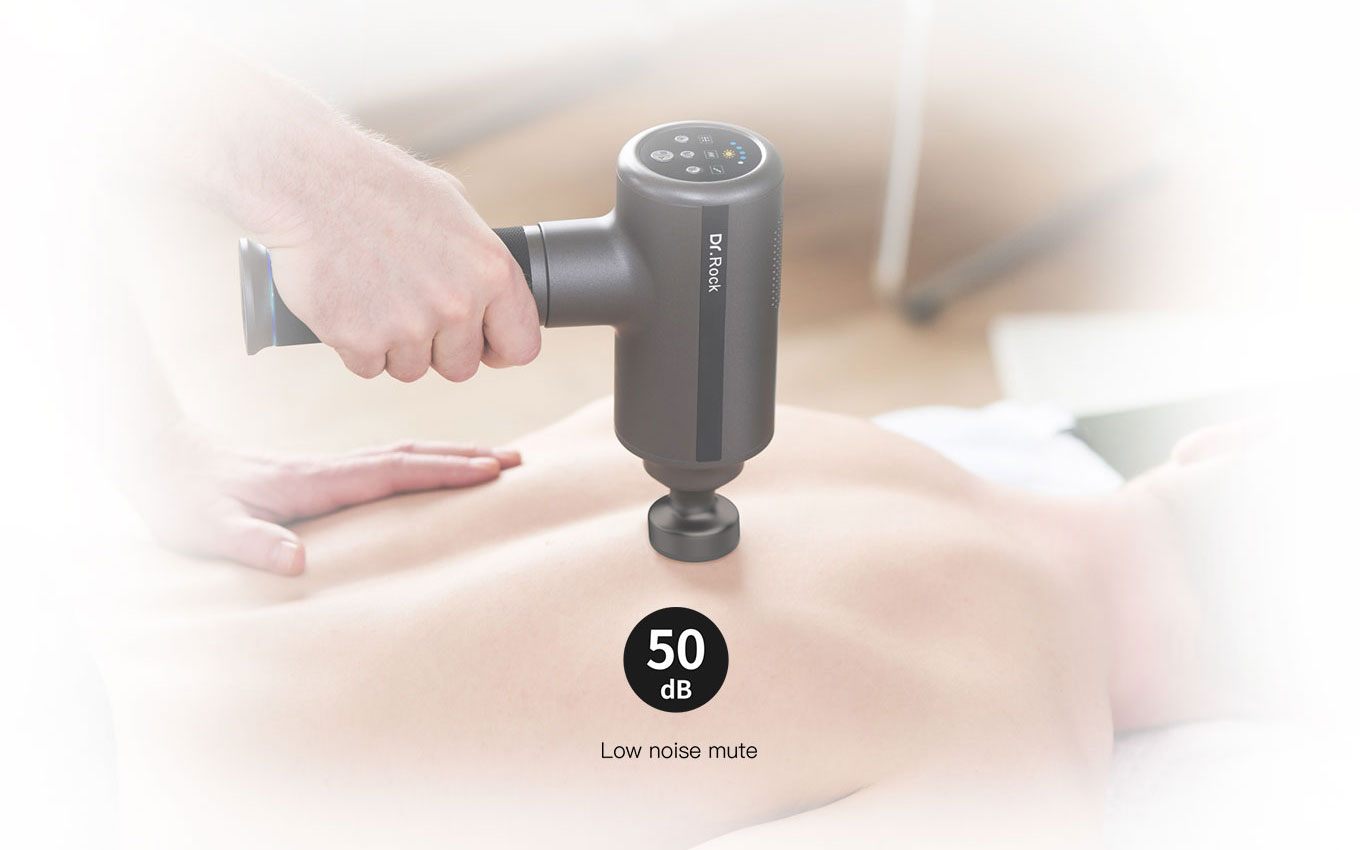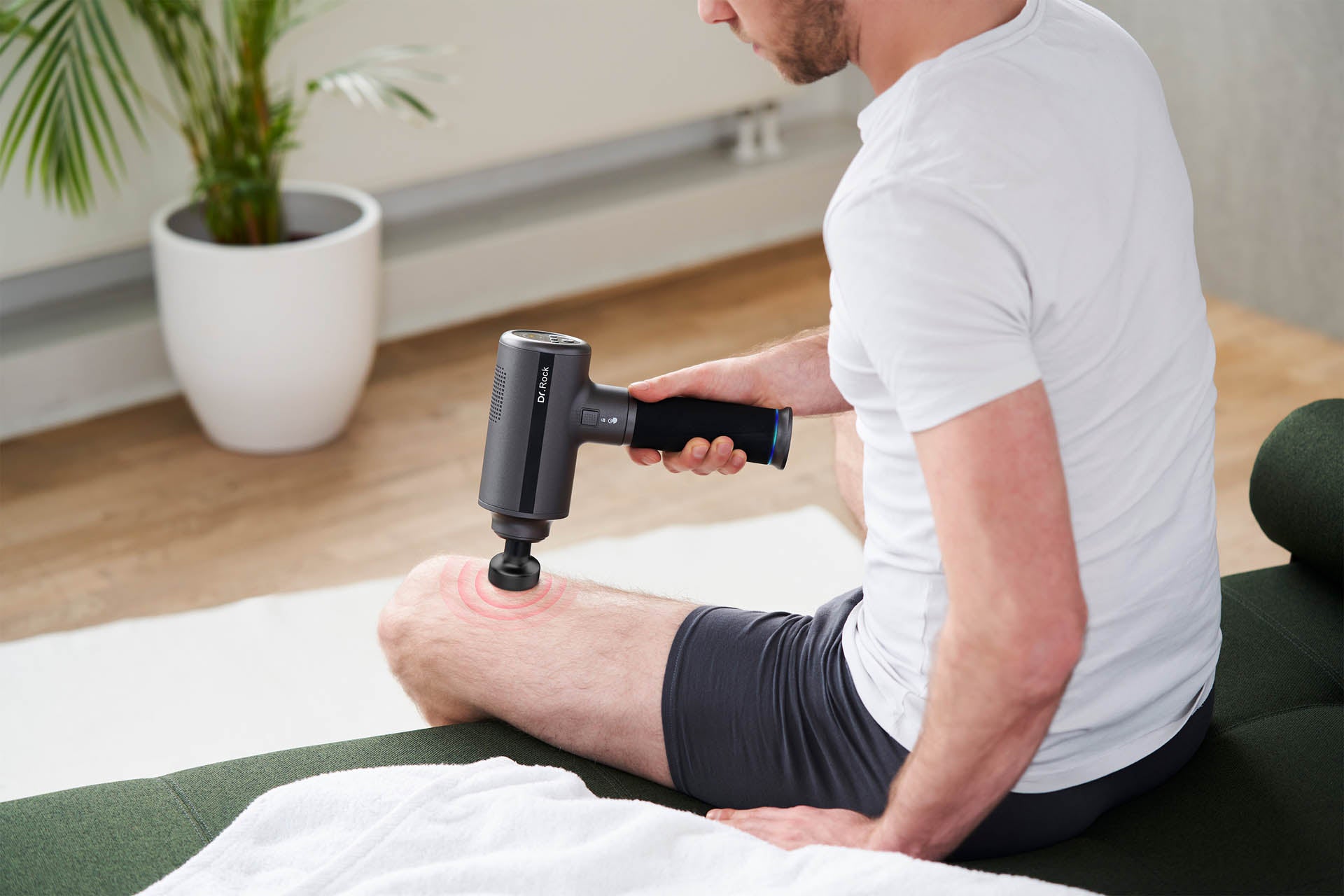 The myofascial release • Increase blood flow
It provides a deep muscle treatment that chiropractors can trust and believe in. Perfect for a deep tissue massage, the gun is equipped with a superior motor and ergonomic handles that quickly activate tired muscles.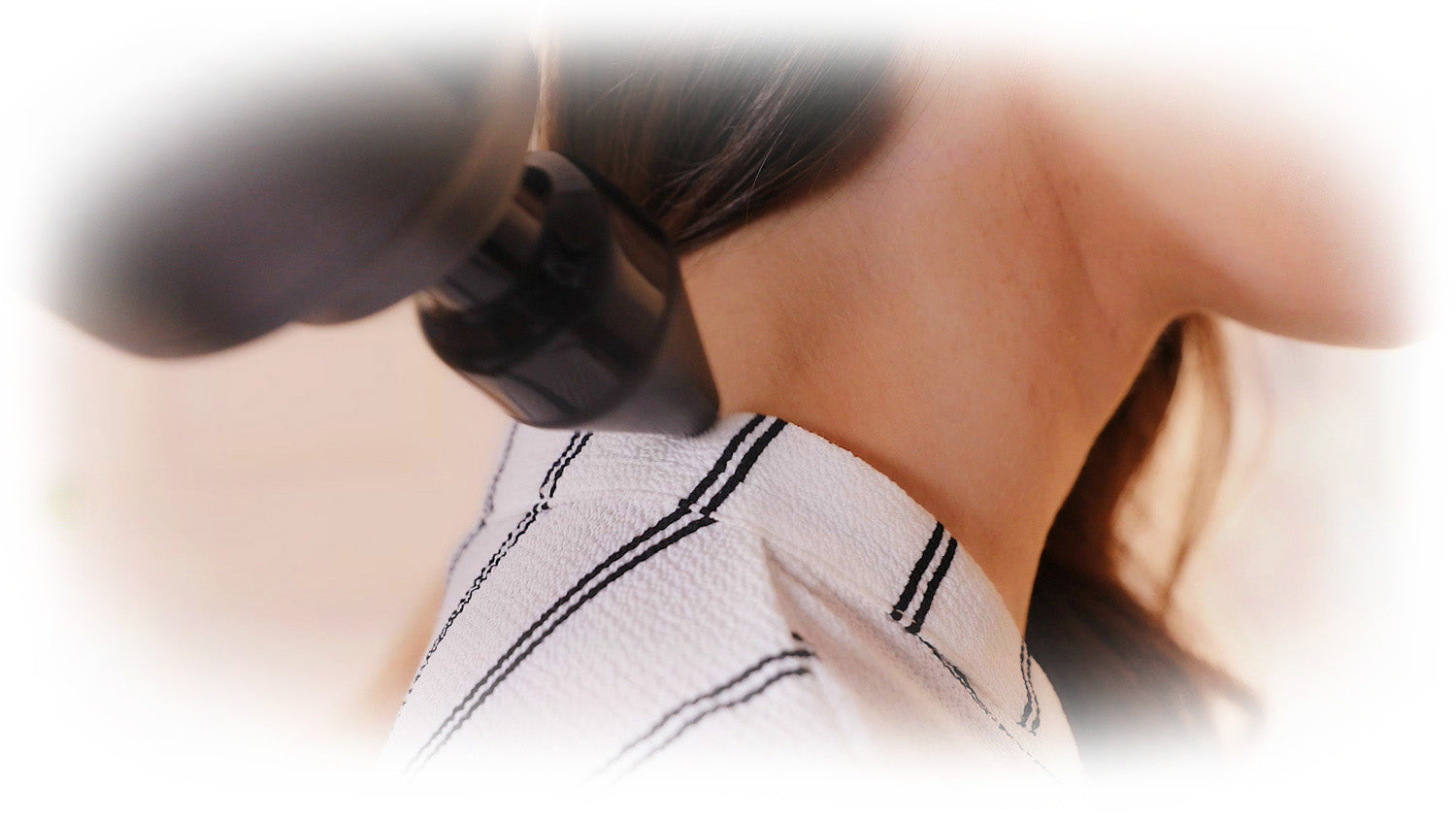 New Bian Stone round ball head and cone head
Aside from soothing and relaxing tight muscles, there are many other benefits. They can lessen the stress on your entire body, and relax your mind, too.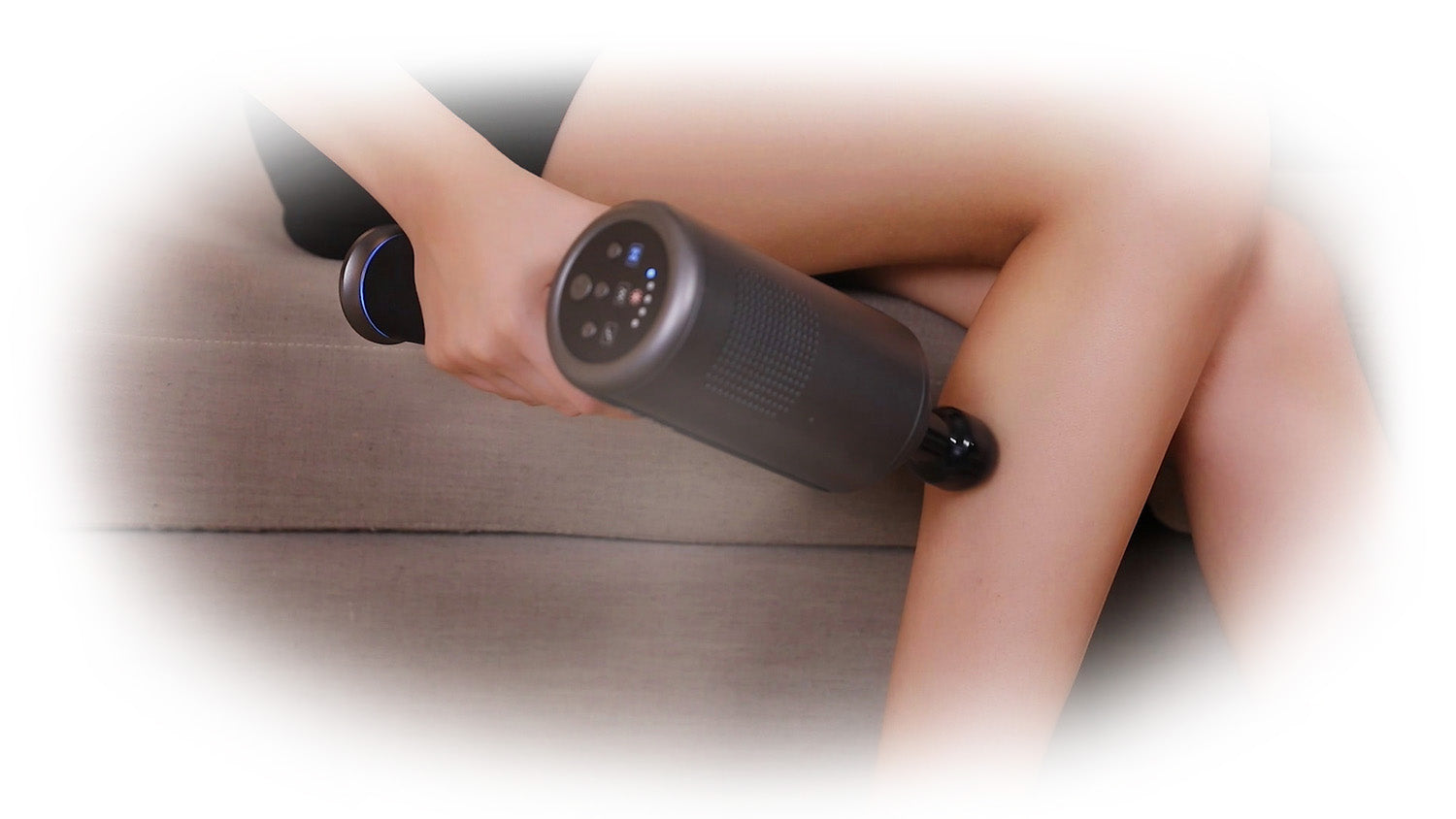 International safety certification
Has passed RoHs, FCC, CE-EMC, FDA (US Medical Device Certification) And other safety certifications provide a safe, stable and durable A physiotherapy instrument with multiple protections.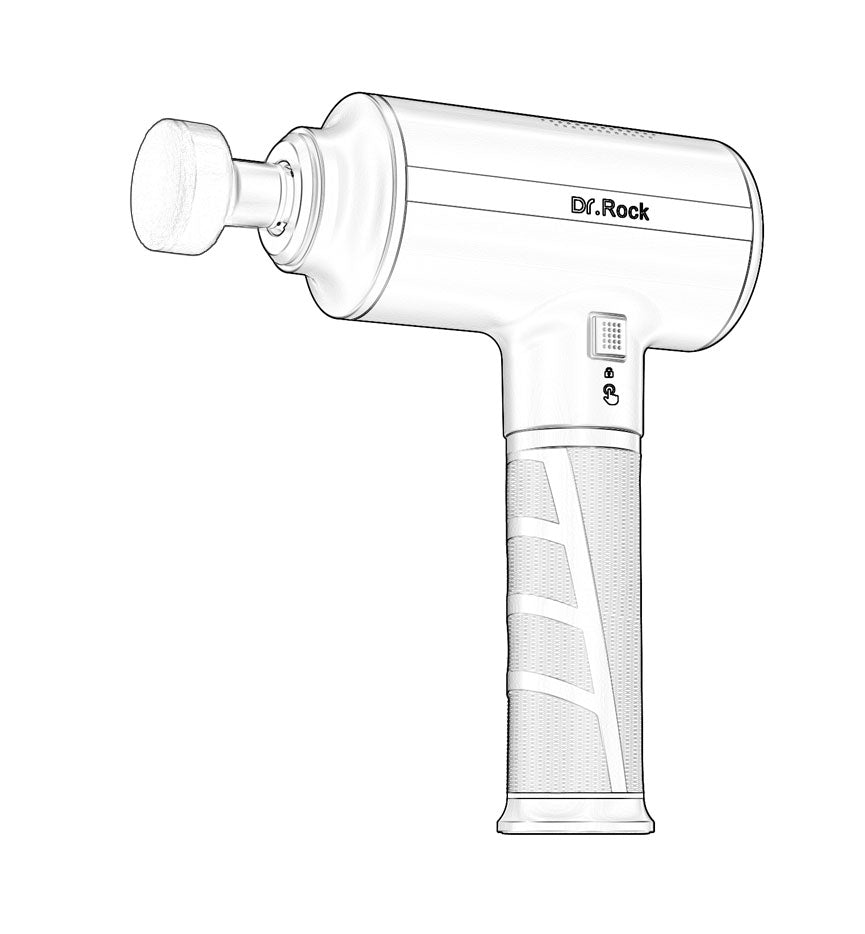 Parameter Specification
Product model:H-MG200
Product name:Zikko Dr. Rock Bian Stone far infrared warm compress physiotherapy
Massage mode:static warm compress, uniform speed, ups and downs, climbing
Force gear:5th gear speed change adjustment
Gear/Speed:1st gear 900 rpm, 2nd gear 1400 rpm, 3rd gear 2000 rpm, 4th gear 2600 rpm, 5th gear 3200 rpm
Work rate:≤60W
Stone hot compress temperature:45℃~72℃ (hot compress heating temperature)
Charger input voltage:110~240 V/50~60 Hz
Charger output voltage:DC 16.8V/1A
Cell:16.8V/2600mAh, 43.68Wh, lithium battery
Working duration:up to about 22 hours
Charging time:about 150 minutes
Size:245*78*255mm
Weight:980 g
Color:Grey
Package accessories
1 x Physical therapy instrument host
1 x Manual of physiotherapy instrument
1 x Ball physiotherapy head
1 x U-shaped physiotherapy head
1 x Conical physiotherapy head
1 x Physiotherapy instrument bag
1 x Stone warm compress physiotherapy head
1 x Physical therapy instrument battery handle