Delivery & Payments
Searching C aims to deliver your items in the fastest time possible!
We ship your order via courier services for delivery. We will send you the tracking numbers once the parel is shipped out.
We accept credit card payment (including Visa, MasterCard and American Express) and Apple Pay.
Contact us
Email: sg@searchingc.com
Overview
Display navigation, music & calls on your windshield. Control them using your hand or your voice.
An all-new head-up display that takes your car to the next level.

Designed by senior automotive engineers and optic doctors.

Display GPS (Waze…), speed, calls & music (Spotify..) on your windshield.
Use touchless Gesture Control to control your car.
Enjoy a Wireless rearview camera for easy parking.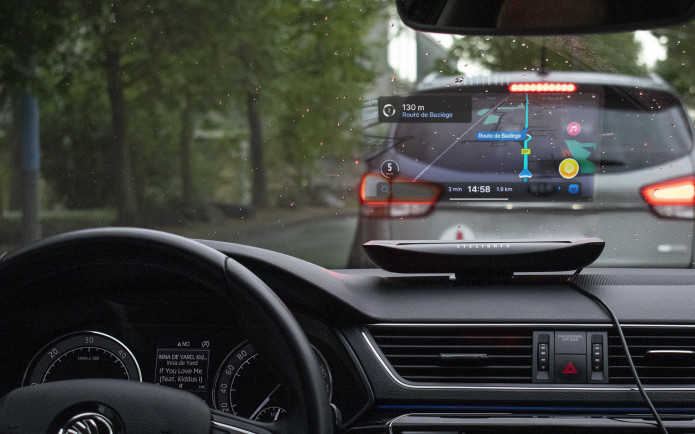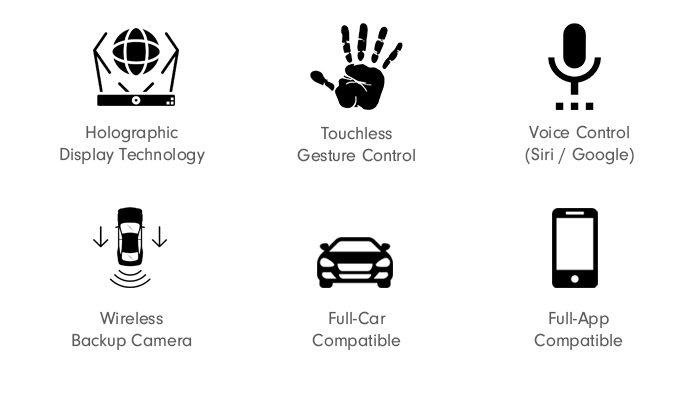 When your smartphone is on your dashboard, you're still tempted to pick it up or look at it, while driving.
EyeDrive offers a safe way to get information from your phone apps while driving and without endangering yourself and others.


EyeDrive allows you to display your favorite navigation app, directly on your windshield.
Enter your desired address on our app, Waze or Google Maps. Get the best route and follow it without taking your eyes off the road.
Our transmissive technology provides the biggest virtual image you can get on the market.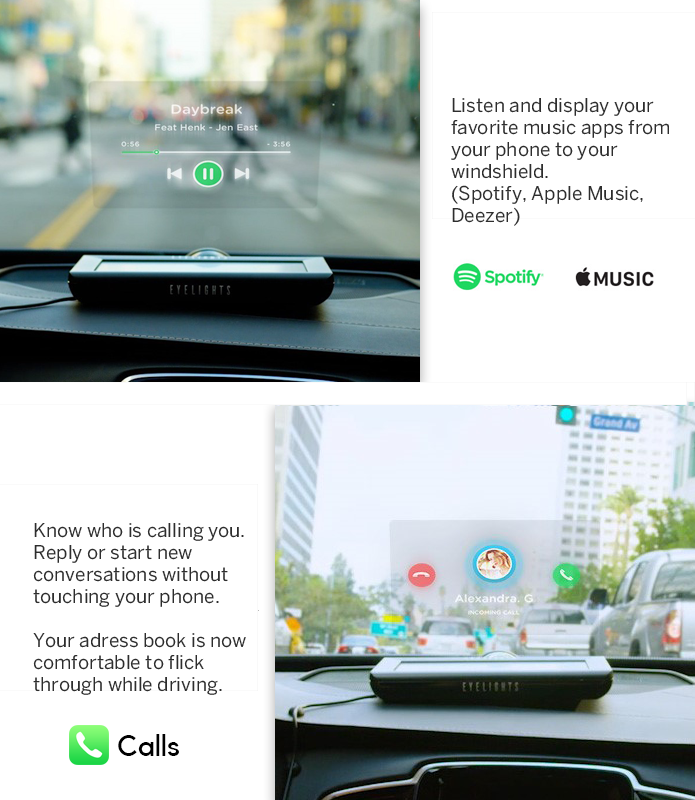 EyeDrive Gesture Control© is a truly intuitive wireless technology. Our gesture sensor uses infrared technology to detect your hand movements and launch different actions.
Use natural swipes to accept/decline a call, manage your music or launch our backup camera.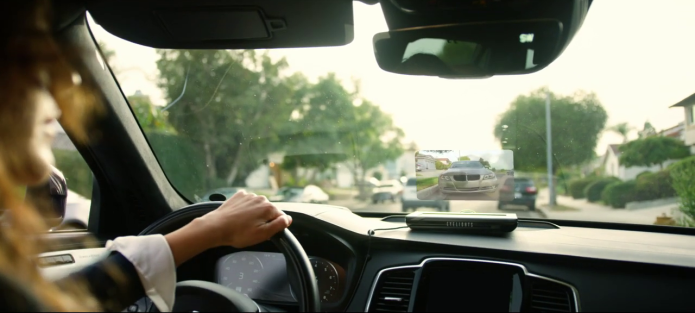 EyeDrive integrates a rearview camera compatible with any car. Enjoy a perfectly clear and lag-free image displayed on your windshield.
Easy to install. Waterproof. Wireless. 5 times cheaper than a built-in option.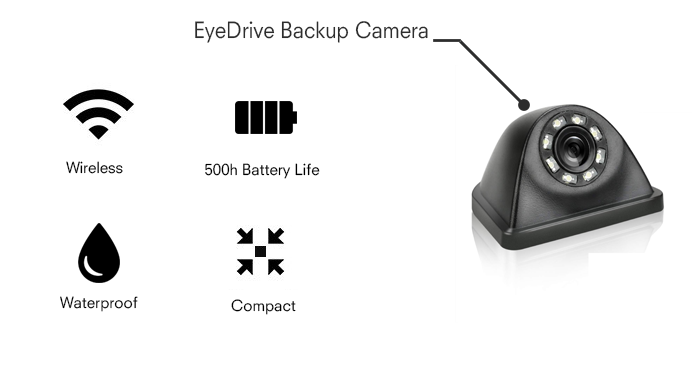 No need to drill any holes or to root cable into your car. Just peel off the sticker and stick it to where you want it to be installed.
The camera is equipped with a removable battery. Easy to remove and reload.

EyeDrive is a high-quality, premium-design hardware device, operating holographic display. A unique optical combination that brings 10 times brighter images than your iPad.



What competitors offer V.S What EyeDrive offers.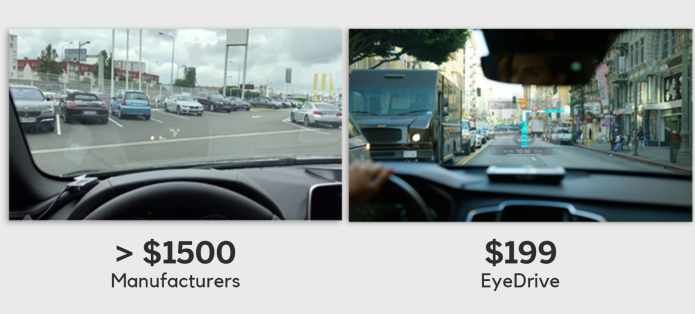 EyeDrive was created for any car in the market, no matter what you're driving.

The EyeDrive display is 10 times brighter than other solutions (4000 nits). Thanks to its brightness sensor, EyeDrive's display screen is clear under any lighting, even on those really sunny days or during the night.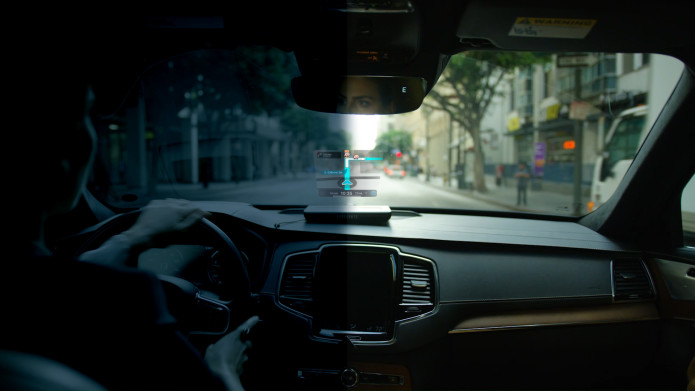 Our magnetic secure-fit technology allows no vibration on the device and a simple way to remove the device when you leave the car.

Don't waste Time. Set-up in seconds.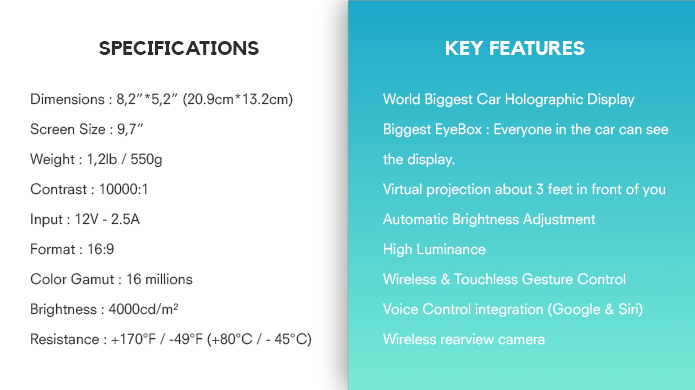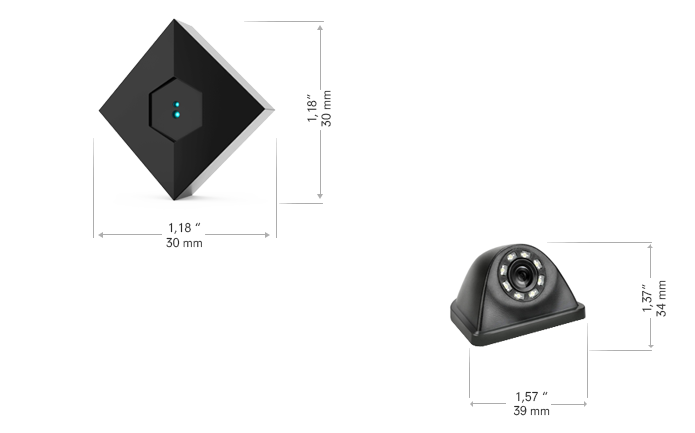 PACK INCLUDES
1) EyeLights Car | Automotive Head-up Display
1x Eyelights Car
1x holographic film
1x car charger EyeLights charges your phone
1x fixation kit : 4x adhesives clips + 1 magnetic plate to fix the Eyelights to your dashboard
1x universal magnetic phone holder
1x lifetime access to Eyelights updates
1x access to the EyeLights Car application
1x unlimited access to our customer support
2) EyeLights Car & Gesture Control

1x EyeLights Car
1x Gesture Control
1x holographic film
1x car charger EyeLights charges your phone
1x fixation kit 4x adhesives clips + 1 magnetic plate to fix the Eyelights to your dashboard
1x universal magnetic phone holder
1x lifetime access to Eyelights updates
1x access to the EyeLights Car application
1x unlimited access to our customer support
3) EyeLights Car | Full Option Pack
1x Eyelights Car
1x holographic film
1x car charger EyeLights charges your phone
1x fixation kit 4x clips adhésifs + 1x plaque magnétique pour fixer le EyeLights à votre tableau de bord
1x universal magnetic phone holder
1x lifetime access to Eyelights updates
1x access to the EyeLights Car application
1x unlimited access to our customer support
All packs come with 1 Year Warranty