Delivery & Payments
Searching C aims to deliver your items in the fastest time possible!
We ship your order via courier services for delivery. We will send you the tracking numbers once the parel is shipped out.
We accept credit card payment (including Visa, MasterCard and American Express) and Apple Pay.
Contact us
Email: sg@searchingc.com
Overview
Geminipad is the World's First Foldable Wireless Charger.
Wireless Charging 2 devices.

Folderable Wireless Charger.

Compatible All Qi Devices.

Airpods Wireless Charging.

2*10W Fast Wireless Charging.

Best Travel Charger.

GeminiPad is Worlds' 1st Foldable Dual Wireless Charger to fast charge all your Qi-embedded devices. The foldable hinge design makes GeminiPad Ultra Portable in your pocket, and wireless charges all your devices anytime and anywhere.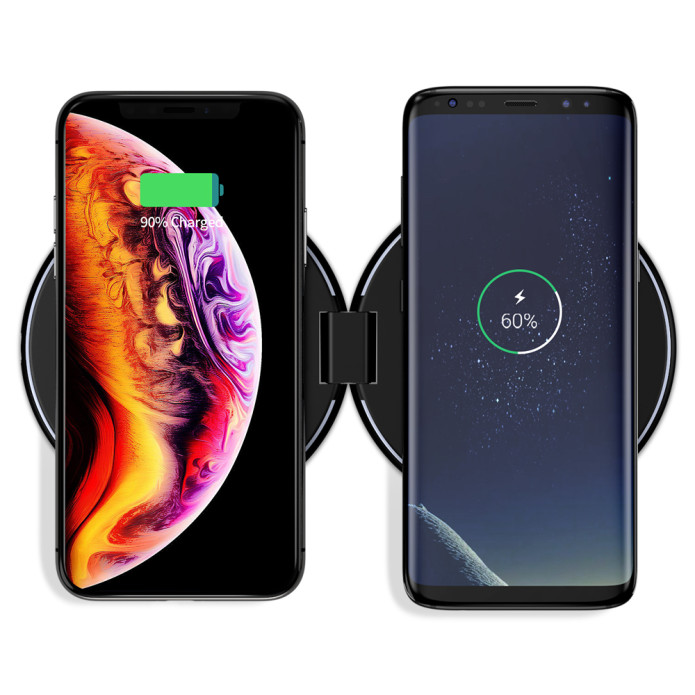 Why GeminiPad?
Now, most people own multiple electronic devices, like iPhone, Apple Watch, and AirPods. All of these devices use a lot of different cables and multiple USB pots chargers, which are extremely inconvenient. GeminiPad is a revolutionary product that fixes all of these problems! Geminipad allows you to truly embrace the convenience of wireless charging.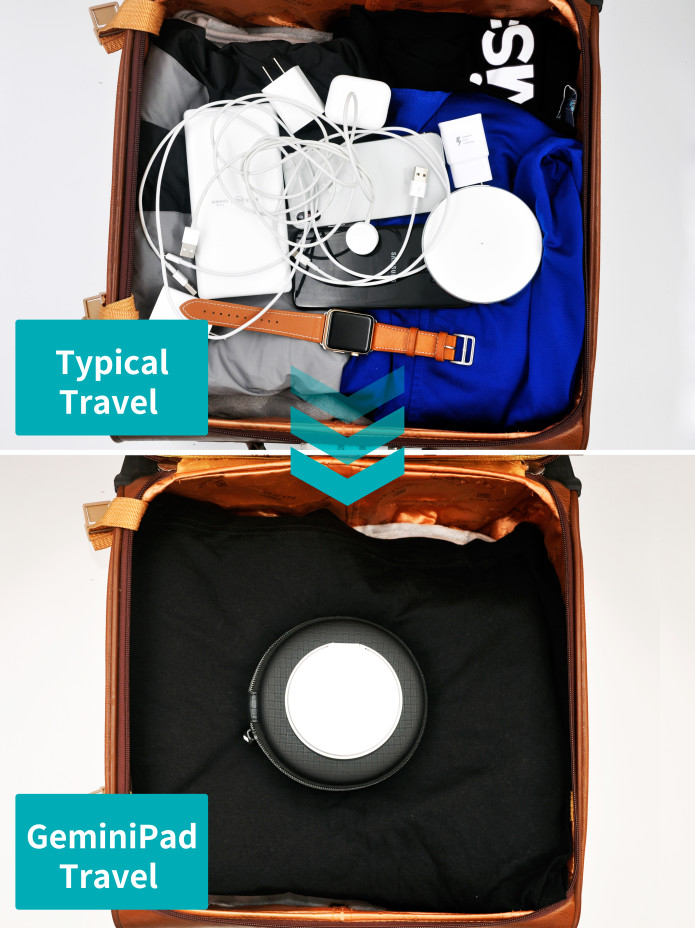 GeminiPad vs. Others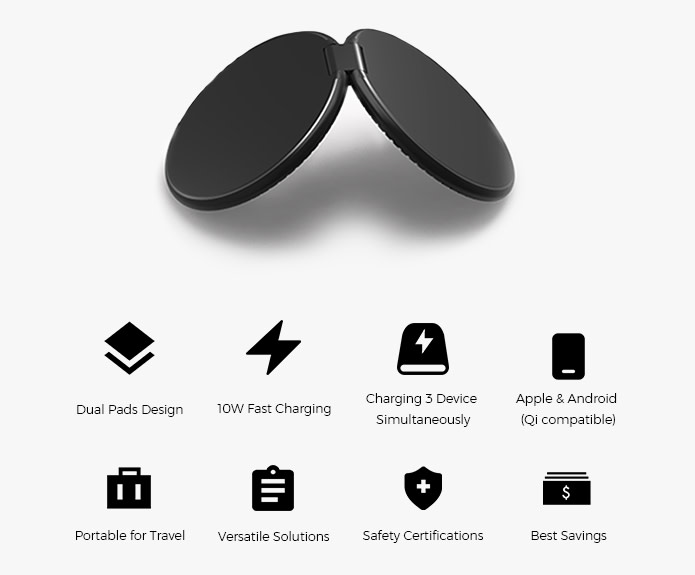 With flexible hinge design, GeminiPad can be flat, fold up, and stand. It is perfect for you to FaceTime or watch a video when the phone is charging.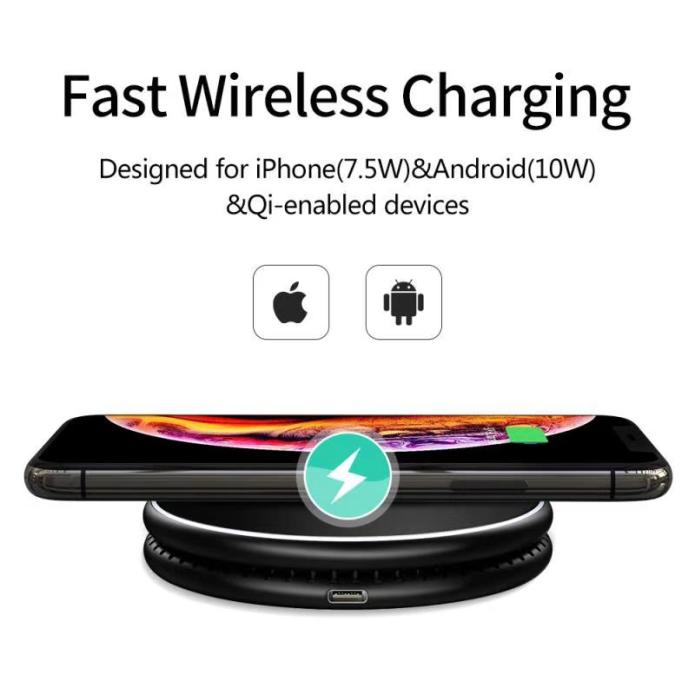 GeminiPad has dual fast wireless charging pads and can charge phones with 10W power. GeminiPad supports the latest Qi wireless charging version, including 7.5W high speed wireless charging for the iPhones as well as 10W high speed wireless charging for the Android devices. The conversion efficiency of GeminiPad has been increased to 80%, which is faster than most wireless chargers whose conversion rate is only up to 60%. GeminiPad can fast charge two phones simultaneously and save your half time comparing with single charger.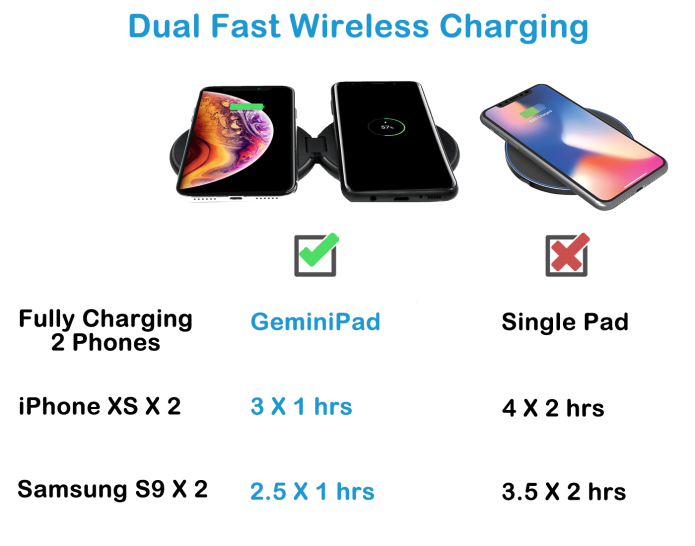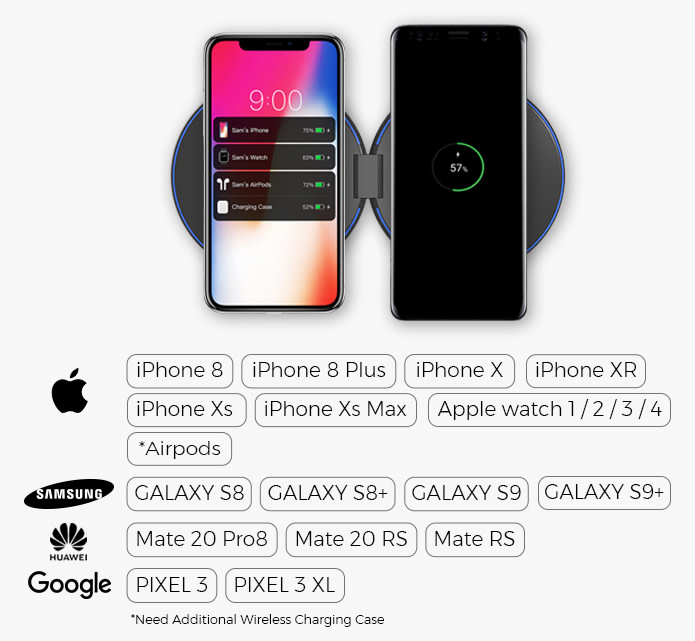 GeminiPad is foldable designed with durable hinge structure and ultra portable in your pocket. You can take it anywhere and charge all your devices anywhere. Gemini is a minimalistic modern wireless charger with two pads connect by a hinge. To ensure Gemini can charge two devices and the same time and to have the best charging pad design on the market, we use the round shape and keep it a palm-size pad. It also built heat dissipation vent on the bottom side of the pad to take the aesthetics and functionality both into consideration.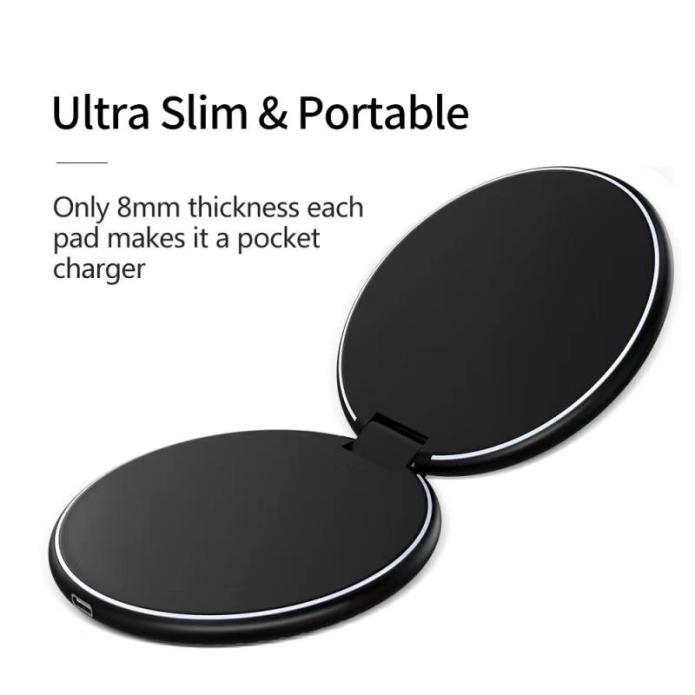 Package
1 x GeminiPad Charger
1 x Type-C USB Cable
1 x USA Adapter**
1 x Manual Guide

Product Specification
Color - Black, White
Size - 18.8 x 9.4 x 0.8cm
Weight - 114g+/-5g
Electric
Type-C Input - DC5.0V 3.0A/ DC9.0V 3.0A
Output - 10W + 10W
Frequency - 110-205KHz
kW:≥72%
Approval - CE/ FCC/ RoHS
Adapter
Input - 100-240VAC, 50/60Hz 0.8A
Output - DC 5V/3A, 9V/3A, 12/2.5A, 15V2A

1 Year Warranty