tr
Delivery & Payments
Searching C aims to deliver your items in the fastest time possible!
We ship your order via courier services for delivery. We will send you the tracking numbers once the parel is shipped out.
We accept credit card payment (including Visa, MasterCard and American Express) and Apple Pay.
Contact us
Email: sg@searchingc.com
The use of child car seats will become mandatory from January 2020 in Malaysia
Can hifold be used in Malaysia?
Yes, hifold child booster seat range expands in Malaysia. please see articles at paultan.org
The hifold is a highback booster seat offering good portability and fitment. The seat provides separate adjustment in four areas – seat width, body width, head width and height, with a number of settings for each. In terms of adjustability, its maker says that the hifold can be adjusted to 243 individual settings.
The hifold meets or exceeds FMVSS 213 and ECE R44/04 regulations. It features six impact protection zones and four layers of protection, using advanced materials such as impact absorbing EPE foam and a polypropylene shell. It weighs 4.6 kg and can be quickly folded down to a compact and convenient size.
Can I use the hifold in a different country?
hifold® will be one of the world's first truly global child restraints that can be used in every country in the world. hifold® is designed and engineered to meet or exceed the regulatory standards for every country on earth. hifold is already regulated in the US (NHTSA FMVSS 213), Europe and the Rest of the World (UN ECE R44/04 ) and China. Regulation in Canada is almost complete and the process for regulation in China has begun. As with most child restraints, it may not be possible to have one single product that complies with all regulations. If this is the case, we will make every effort to have the seats comply with as many different regulations as possible.


Overview
The world's most adjustable highback booster seat, hifold. The unique "Multi-Fit™" technology has 243 individual settings to keep your child safe & comfortable!
Safe: Dual certification - meets Europe and US safety standards with a four-layer design and six impact protection zones
Highly adjustable and customisable: 243 individual settings in four adjustable zones for optimum comfort and safe and secure seat belt fit
Taxi-friendly: Set-up in under ten seconds and easy-to-use
Lightweight and portable: Weighs just 4.5kg and folds down to three times smaller than a normal high-back booster.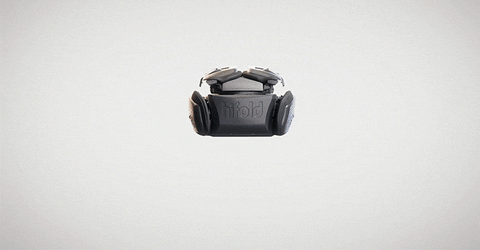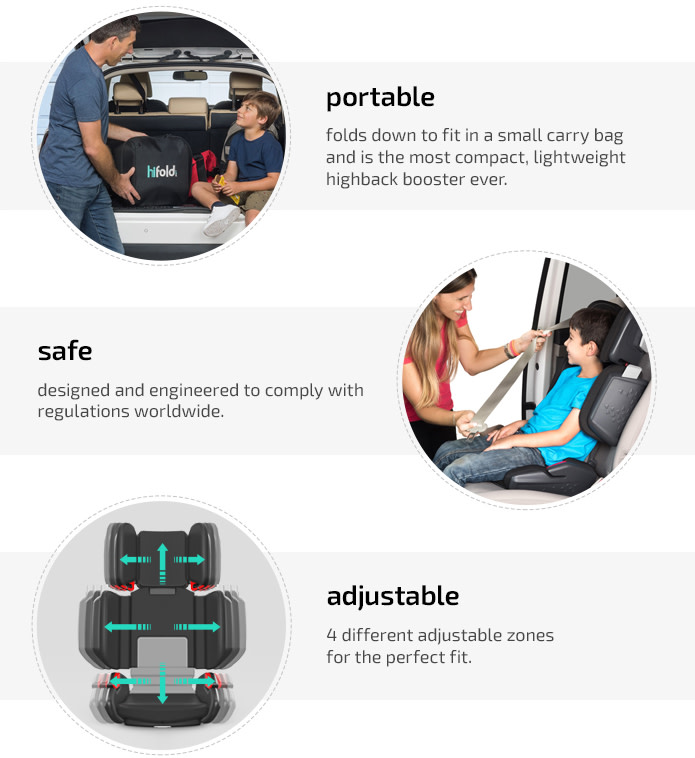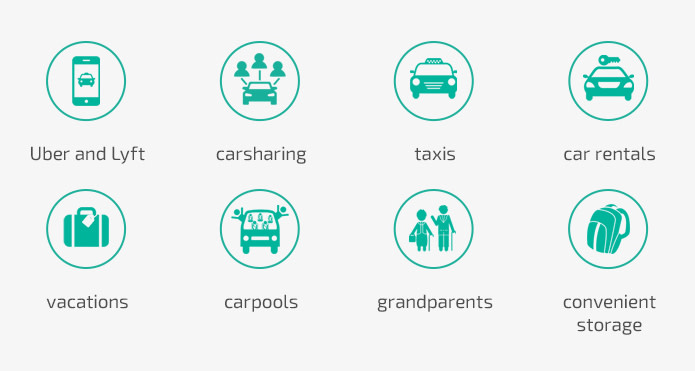 say goodbye to big bulky highback boosters that are difficult to carry around.
hifold folds down to fit into its small carry bag for even easier travel.


with a range of height and width settings and patented adjustable lap and shoulder guides, the hifold booster provides a safe and secure belt fit.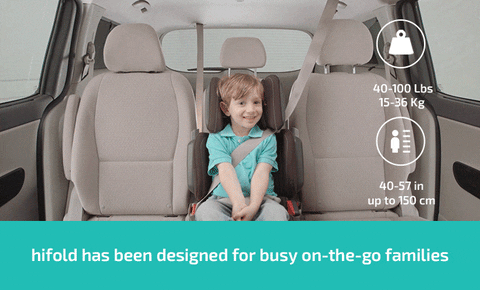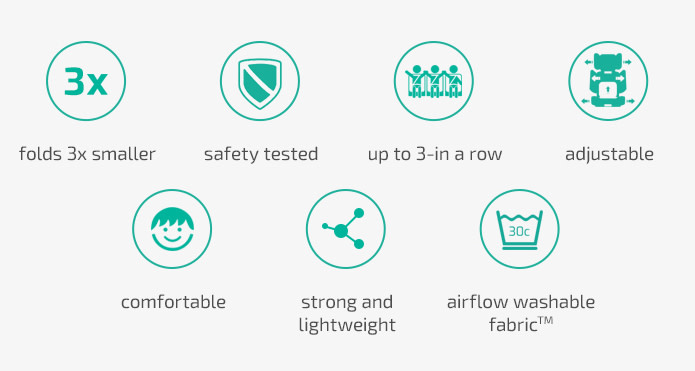 Safety Credentials
The hifold is the first-of-its-kind to carry certification for both European (ECE R44.04) and US ( FMVSS 213) safety standards with a patented design that optimises the seat belt fit of the lap belt and shoulder belt of a vehicle.

With a four-layer design and six impact protection zones located on either side of the hip, shoulder and head area, the hifold is made using advanced lightweight materials such as a polypropylene shell and EPE (expanded polyethylene) foam. EPE more energy absorbent, more elastic than other foams used in traditional booster seats and has strong cushioning and shock proofing qualities.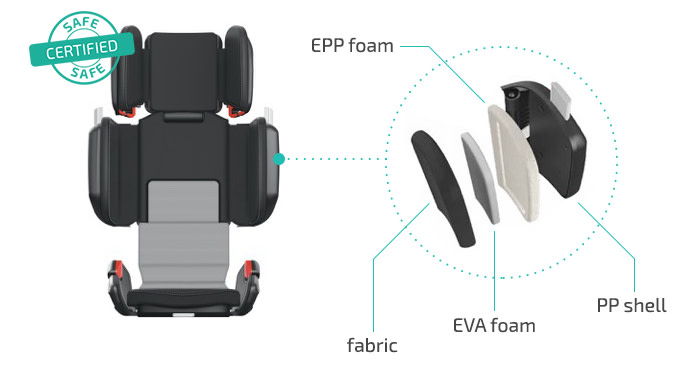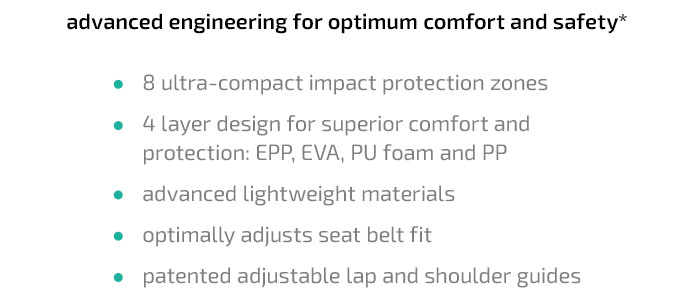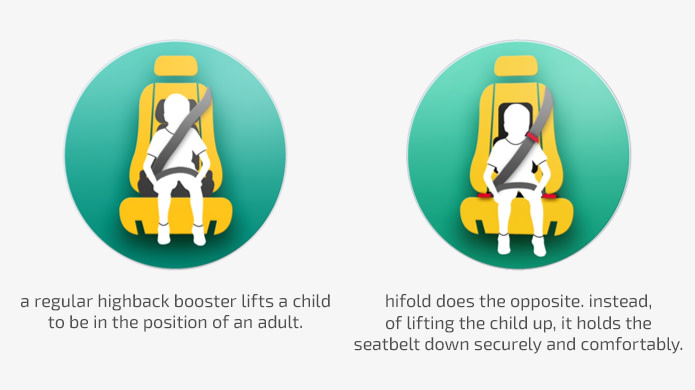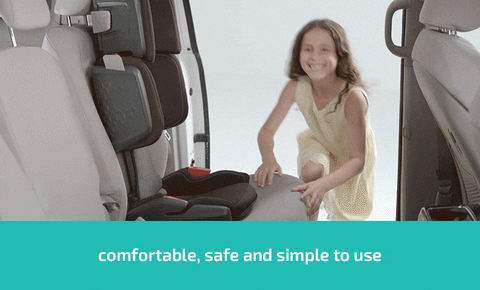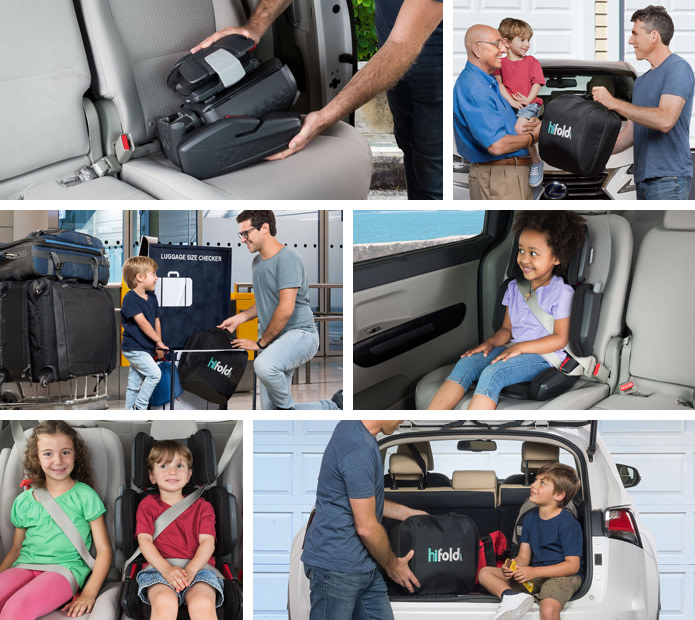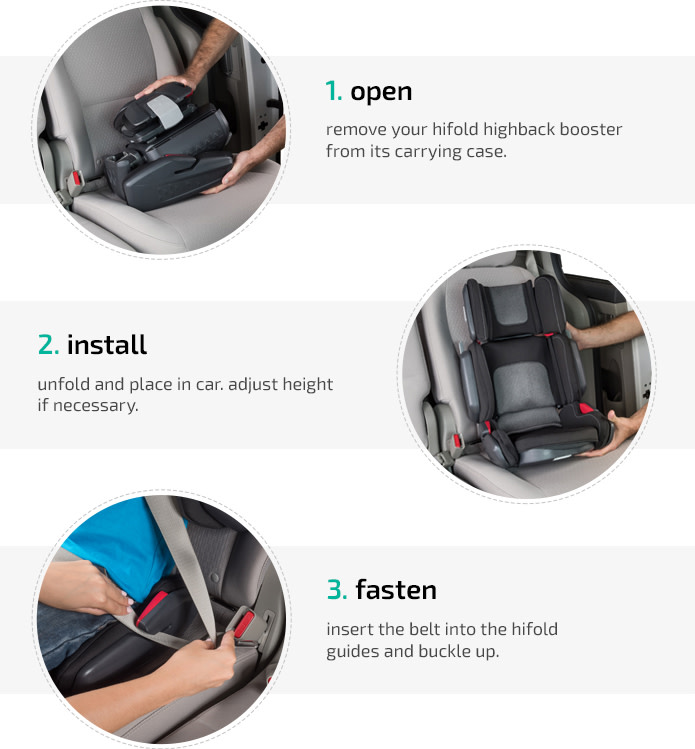 designed, engineered and tested to meet regulatory standards worldwide* while being comfortable enough for even the most sensitive of children.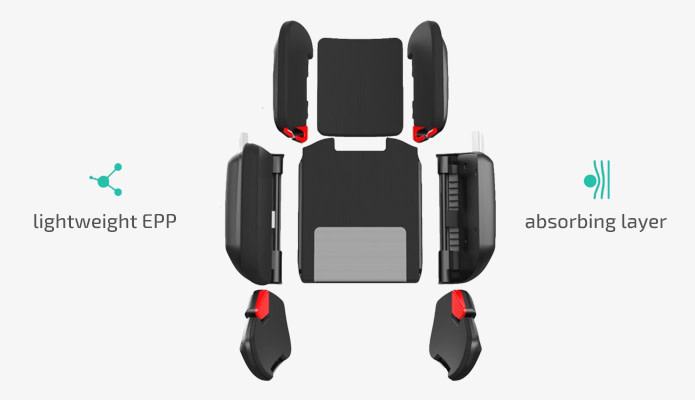 compact safety for every adventure
• hifold is adjustable, safe and comfortable

• 243 individual settings Meets or exceeds NHTSA FMVSS 213

• For children weighing 33-100 lbs, 36"-59"
hifold features the unique "Multi-Fit™" technology. hifold is the only booster seat that can be adjusted separately in 4 areas including, the seat width (3 settings), the body width (3 settings), the head width (3 settings) and the height (9 settings).
This means that hifold not only grows with the child but also ensures optimal seatbelt fit and comfort, no matter the size or shape of the child
The advanced "MultiFold™ " system. quickly folds down into a compact and convenient size making it ideal for storage.
hifold comes with a convenient carry strap which ensures ease of portability whether for taking on vacation, moving from car to car or for carpooling and taxis.
hifold is regulated for global use.
The 6 advanced impact-protection zones and 4 layer design ensure optimum comfort and protection. hifold uses advanced lightweight materials including a polyproylene shell, EPE, a PU foam and fabric layer.


details
Height

Folded: 9.8 inches (250mm)

Full height: 29.7 inches (755)mm

Length




Folded: 13.5 inches (344mm)

Full height: 15.6 inches (397mm)

Width




Folded: 13.5 inches (344mm)

Full height: 18.9 inches (480mm)

Weight
10 lbs. 2 oz (4.6kg)
Materials

hifold has a unique 4 layer design:

Layer 1: Ultra-light weight EPE (Expanded Polyethylene) foam for superior impact resistance.

Layer 2: A dense energy absorbing EVA (Ethyelene-vinyl acetate) layer for added protection.

Layer 3: A comfortable PU (polyurethane) foam and airflow™, washable fabric.

Layer 4: A tough PP (Polyproplyene) shell.