Delivery & Payments
Searching C aims to deliver your items in the fastest time possible!
We ship your order via courier services for delivery. We will send you the tracking numbers once the parel is shipped out.
We accept credit card payment (including Visa, MasterCard and American Express) and Apple Pay.
Contact us
Email: sg@searchingc.com
Overview
Fastest 50Gb/s hub for USB-C MacBook Pro 2016/2017. Adds HDMI, 2 x USB-C, microSD, SD, 2 x USB 3.1.
The World's Most Compact and Fastest 50Gb/s USB-C Hub.

The first hub in the market to utilize two USB-C ports on the MacBook Pro.

Deliver the fastest 50Gb/s bandwidth across 7 ports (HDMI, USB 3.1 x 2, micro SD, SD, USB-C, 40Gb/s USB-C with 100W Power Delivery).

Specifically designed for the 2016 MacBook Pro.

Virtually restoring all the ports found on the previous 2015 MacBook Pro model.
So you got your new 2016 MacBook Pro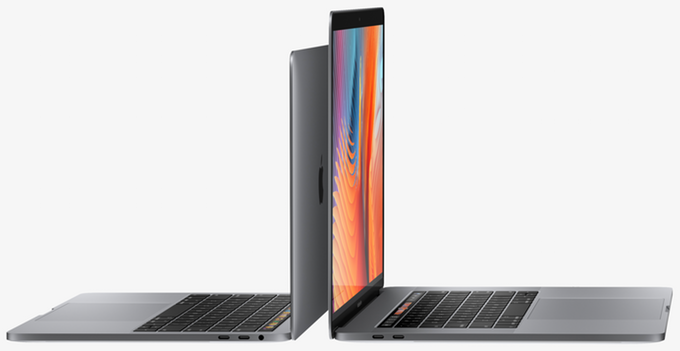 New 2016 13" and 15" MacBook Pro
Only to realize that it has the new USB-C ports that doesn't work with any of your current devices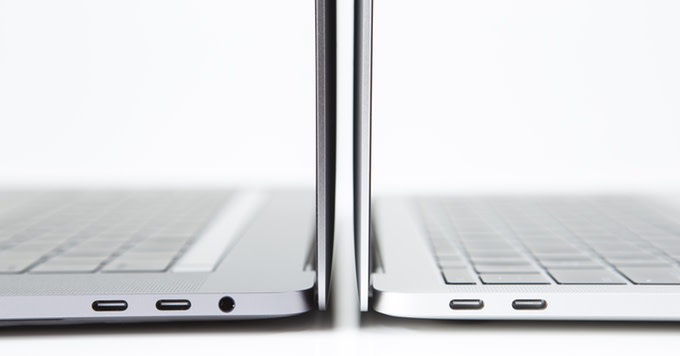 New USB-C ports
You would practically need a dongle for everything!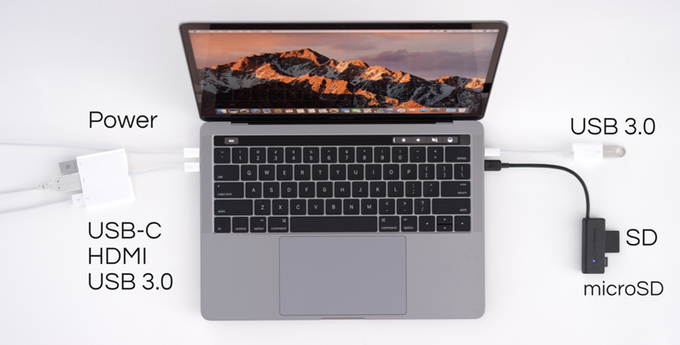 #DongleLife #DongleHell #DongleMania #DongleGate
Introducing HyperDrive
Worldwide Patent Pending
The world's most compact & fastest USB-C hub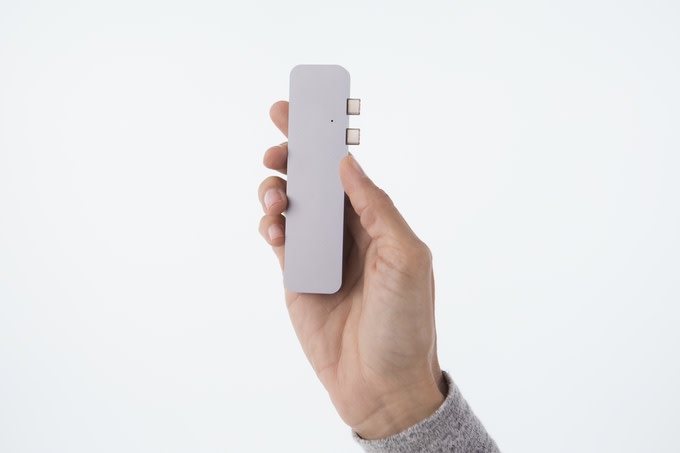 Unlike most USB-C dongles which still run on slow USB 3.0 (5Gb/s) speed, HyperDrive is 10X faster (50Gb/s) by using not one but two USB-C connections. Other USB-C docks are as big as a brick and nowhere as portable as the HyperDrive.
The 1st hub designed specifically for the 2016 MacBook Pro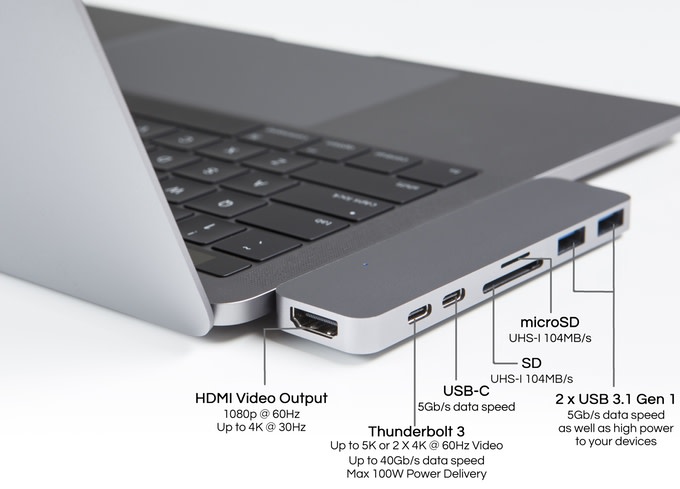 HyperDrive is the first and only hub designed to tap into two USB-C ports on the MacBook Pro for maximum bandwidth, to deliver more ports in the smallest footprint.
Regain virtually all ports from the previous MacBook Pro model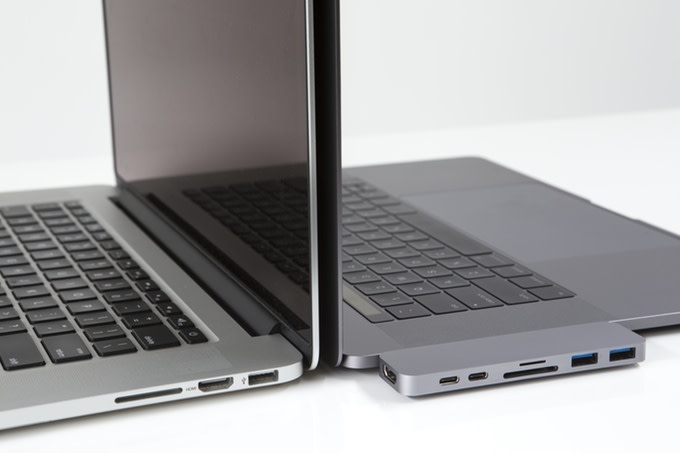 2015 MacBook Pro & 2016 MacBook Pro with HyperDrive
With HyperDrive, you get the most commonly used ports, found in preceding 2015 MacBook Pro model. This is the adapter Apple should have provided with every 2016 MacBook Pro.
More bandwidth (50Gb/s) than any USB-C dongle in the market
Many 5Gb/s dongles have multiple ports that cannot be reliably used at the same time because of speed and bandwidth limitations. Only HyperDrive has the high 50Gb/s speed and bandwidth required for all 7 ports to be used simultaneously.
Simultaneously connect HDMI, , USB-C, microSD, SD, 2 x USB 3.1. All while charging at full speed thru HyperDrive
Connect both 4K HDMI and Thunderbolt 3 (e.g. LG UltraFine 5K) Displays at the same time.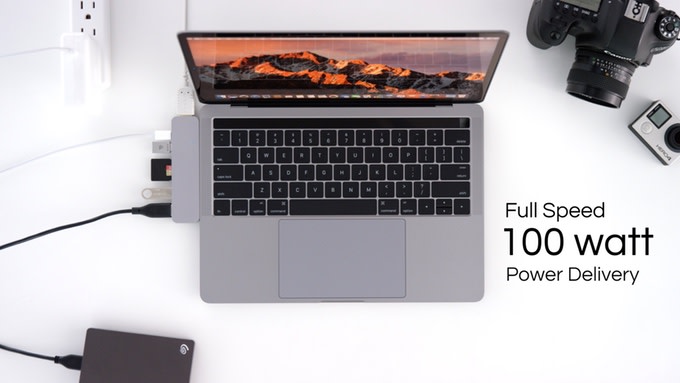 The 40Gb/s USB-C port on HyperDrive supports up to 100W power delivery. This means you can charge your MacBook Pro at full speed through HyperDrive while using it, delivering the maximum 61W power to the 13" MacBook Pro and 87W to the 15" MacBook Pro.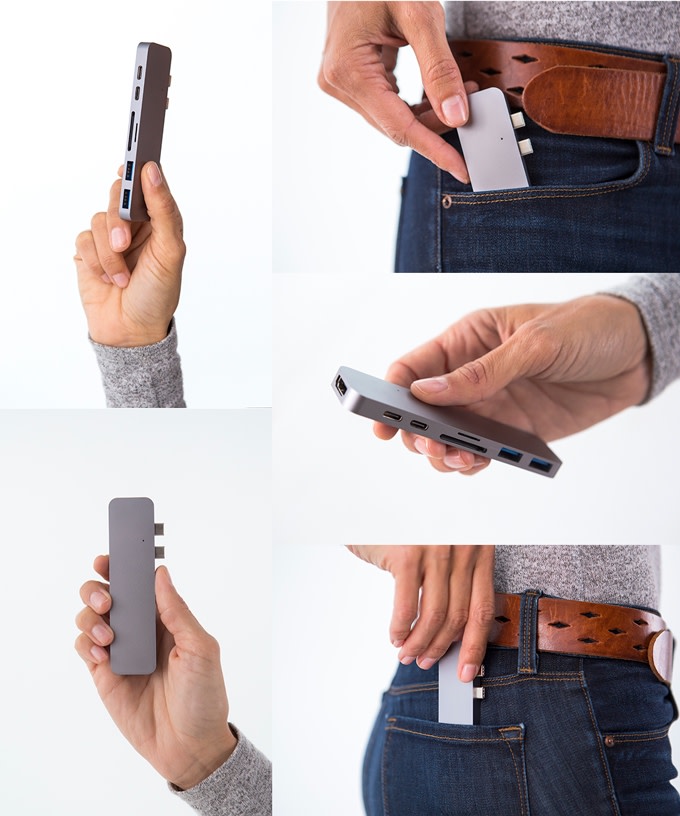 Replace all other dongles with HyperDrive
Compared to other dongles in the market and from the Apple Store, HyperDrive is more portable, has more features and is made of better materials. You would need multiple dongles to achieve what HyperDrive does, at a total cost much higher than HyperDrive.
Stop figuring out how to store and carry your dongles
Having multiple dongles means that you now have more items to manage on top of your MacBook Pro, which increases the risk of misplacing them as you move around.
With HyperDrive, just pack and go
HyperDrive is designed to be compact enough to stay with your MacBook Pro wherever you go
Don't look silly with dongles. Just go with HyperDrive!
Stop hanging and juggling with multiple dongles. A single compact HyperDrive does the job of multiple dongles. Dongles never look sleeker than this.
Stop wasting time plugging dongle after dongle
Imagine all the dongles you would have to connect whenever you set your MacBook Pro down on the desk at home or at work.
HyperDrive gets you up and running in no time
Idea: Keep a HyperDrive already connected to all your devices at home or work and simply make a single, quick and easy HyperDrive connection whenever your MacBook Pro is at the desk. HyperDrive supports hot swapping/plugging so a single HyperDrive connection would instantly connect all devices already connected to the HyperDrive.
CNC precision milled aluminum enclosure color matched to silver and space gray MacBook Pro

Silver & Space Gray HyperDrive
The same HyperDrive works with both 13" and 15" MacBook Pro
And because USB-C connectors are reversible, you can flip HyperDrive around and use on the right or either side of the MacBook Pro.
Design

We designed HyperDrive to feel like a natural extension of the 2016 MacBook Pro with similar product lines, thickness, right angled edges and rounded corners.

HyperDrive is made of CNC precision milled aluminum available in both Space Gray and Silver to match the color and appearance of the MacBook Pro.
We also wanted an adapter hub that users can leave on their MacBook Pro as they move around. As such we did away with connector cables and have HyperDrive connect right next and flushed to the MacBook Pro.
For stability, HyperDrive connects to the MacBook Pro with not one by two USB-C ports. Having two input ports also allow us to provide more speed and bandwidth (50Gb/s) to HyperDrive, allowing it to provide as many ports (7 in total, all of which can be used simultaneously) in the tiniest of spaces.

2015 MacBook Pro & 2016 MacBook Pro with HyperDrive
We decided to go with popular output ports (HDMI, SD, microSD, 2 x USB 3.1 Gen 1) found in the previous MacBook Pro model. Although HyperDrive takes up two USB-C ports on the MacBook Pro, it also returns a USB-C and a 40Gb/s USB-C port as well, which supports up to 100W power delivery pass through charging through HyperDrive.
Ultra Low Power Consumption Design (so we won't drain your MacBook Pro battery like other dongles do)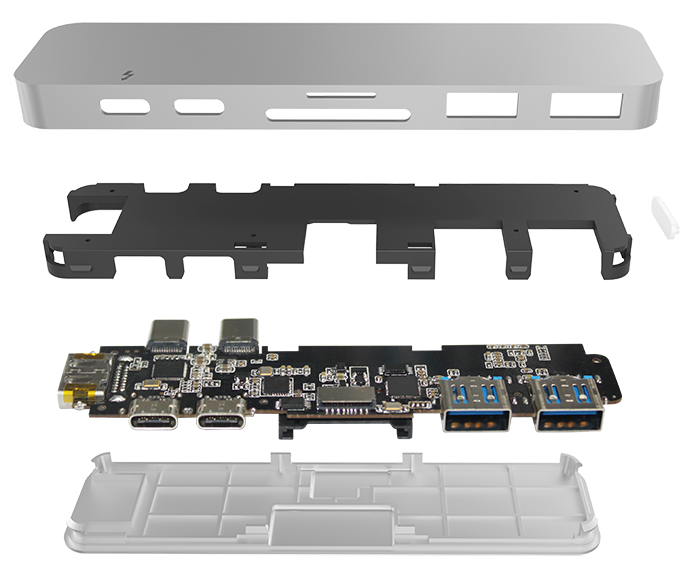 Every component in HyperDrive (hub, card reader, DC/DC converter, power delivery, USB-C chipset) utilizes industry leading low power consumption technologies. The end result is a power efficiency of up to 96% and device operating temperature of less than 48ºC / 118ºF. Despite its many features, HyperDrive will consume much less power than other dongles, leaving more power for your MacBook Pro.
Specifications
Output:

HDMI supporting 1080p@60Hz, 4K@30Hz
40Gb/s USB-C supporting video up to 5K@60Hz or 2x4K@60Hz, 40Gb/s data and max 100W full speed power delivery pass through charging
USB-C data (5Gb/s)
SD (UHS-I 104MB/s)
micro SD (UHS-I 104MB/s)
2 x USB 3.1 Gen 1 (5Gb/s)

Input: 2 x USB-C
DC/DC efficiency: Up to 96%
Device Operating Temperature: Less than 48ºC / 118ºF
Enclosure: CNC aluminum available in Space Gray & Silver color
Dimensions: 4.5" x 1.1" x 0.3" / 115 x 28.5 x 8.5mm
Weight: 1.2oz / 34g