Delivery & Payments
Searching C aims to deliver your items in the fastest time possible!
We ship your order via courier services for delivery. We will send you the tracking numbers once the parel is shipped out.
We accept credit card payment (including Visa, MasterCard and American Express) and Apple Pay.
Contact us
Email: sg@searchingc.com
Overview
Charge your Apple Watch anywhere effortlessly and travels with you everyday.
Cut-proof material, will not be easily cut and durable
Built-in multiple pockets for exclusive passports, mobile phones, change, pen pockets, and key rings!
The built-in USB interface, easy to charge your phone anytime, anywhere
Anti-splashing material, not afraid of rain
Super strong straps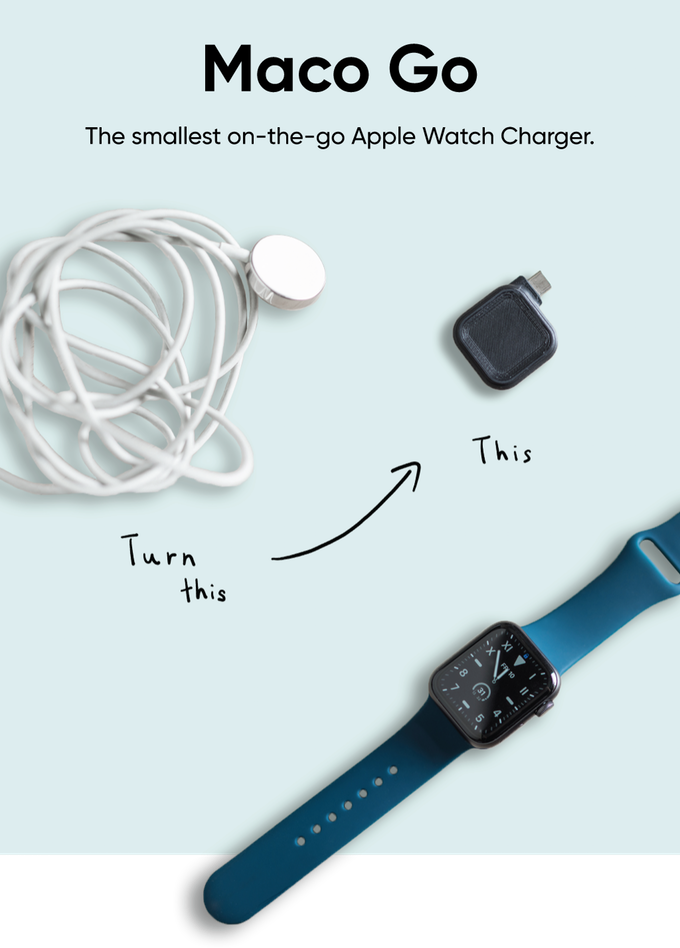 You can simply plug Maco Go into a laptop, smartphone, iPad Pro, or powerbank to charge your Apple Watch (see specification below for compatible list).

Maco Go is designed not to block the next port which allows you to charge your laptop and Apple Watch simultaneously.

It is designed to fit with any type of watchband, e.g. active band, loop band, leather band, or milanese steel band.

You get an optimal viewing angle when you charge with an iPad Pro. You can see the time and the charging status next to your screen.

If you wish to charge with devices with USB-A connector (e.g. powerbank, wall adapter, laptop, and etc), we offer an optional adapter to charge with Maco Go.


The current Apple Watch Charger cannot plug into the Macbook (2015 model and later), you have to purchase a USB-C adapter in order to charge your Apple Watch.

Sometimes when we need to charge the Apple Watch, the charger is left at home. For examples - go to work in the morning but forgot to charger a night before, stay over someone's place, or travelling.