Delivery & Payments 
Searching C aims to deliver your items in the fastest time possible!

We ship your order via courier services PosLaju, Gdex for local delivery and DHL for international delivery. 

For ready stock items, your order will ship within 3-5 business days, 
or alternative 7-30 business days for pre-order items after order confirmation.

We accept credit card payment (including Visa, MasterCard and American Express) and Apple Pay.

7 DAYS FREE RETURN.

Contact us
Whatsapp/Hotline at +60 18-295 2052 / Email: my@searchingc.com

Overview
A minimalist solution for securely carrying your phone, cards and/or passport with comfort and ease.
The first stand alone pouch that can be added to a waistline.

Carrying your cell phone, cards or passport has never been so easy.

Wear your pouch how you like.


The easy on easy off propriety clips to secure your stuffs.

The One80 Pouches use no magnet, no velcro and no zipper. They require no pocket or belt to provide you with an easy and safe solution for carrying your cards, phone or passport.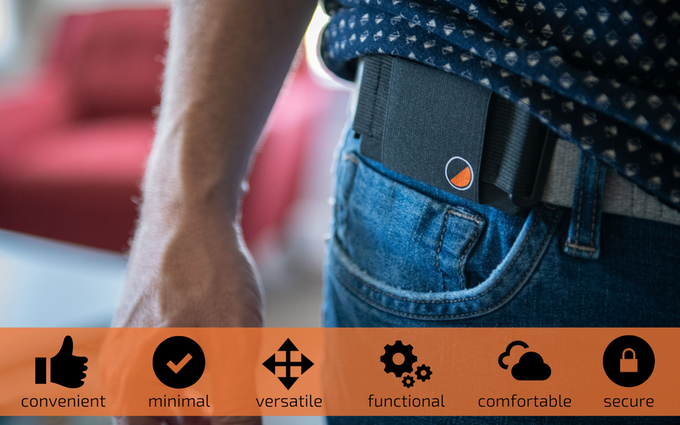 We've taken the idea of a running belt and transformed the concept into something completely new and different; then expanded on the idea from a way to carry a phone while running to wallets and passport holders. 
The One80 Pouch is the first stand alone pouch that can be added to a waistline (with or without a belt) with no need for a belt, pocket, magnets or velcro. This pouch makes it possible for you to carry those day to day necessities with ease. Each pouch lays discretely against your waist with little to no show. 
 Compare the old way to the newly reinvented One80 Pouch way!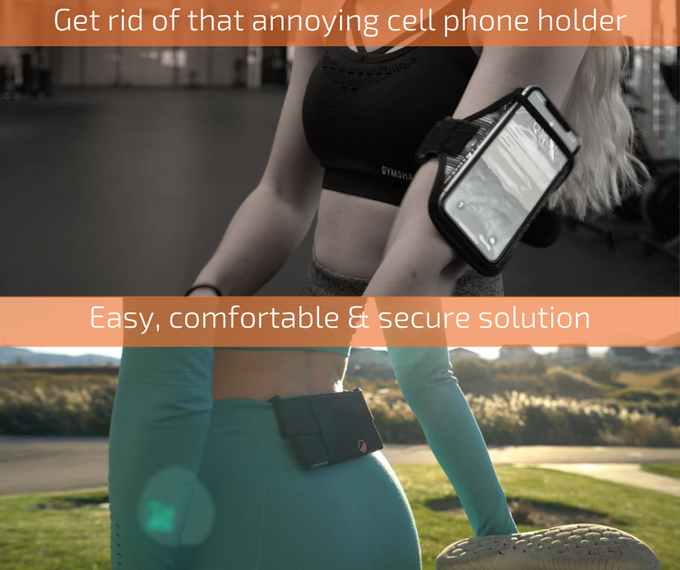 Carrying your cell phone, cards or passport has never been so easy. 
In developing the One80 Pouches we poured over reviews to figure out the good and bad of all comparable items. Zippers are the number one breaking point of running belt and fanny packs. Magnets are potentially dangerous to cell phones and velcro often loses its stick after time. So, we set out to find a way to develop the pouches without any of these to improve user experience and convenience.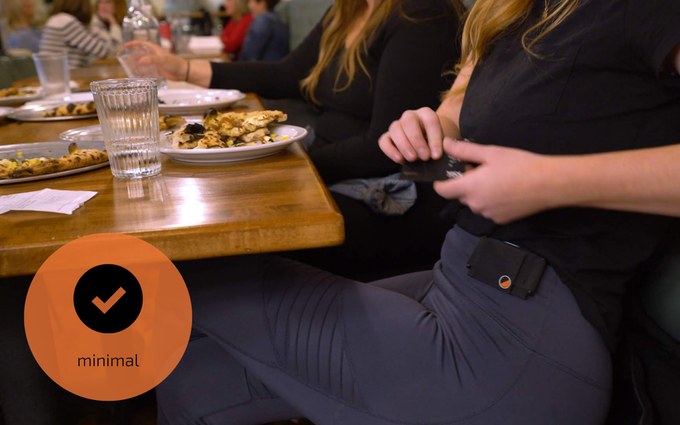 No one likes sitting on a wallet. It's uncomfortable and annoying. 
Minimal wallet are great. Better than a large traditional wallet. Yet the problem remains.  You have have to keep in a pocket. Do you deal with having it in a back pocket and the bother of sitting on it? Or keep it in a front pocket and contend with the front pocket bulge? 
Dave, who has been testing testing the card holder wallet prototype said,
"I went to using a minimal wallet a year ago. From there I started keeping it in my front pocket to avoid having to sit on it. That was better than a back pocket. 
But THIS wallet is a GAME CHANGER." 
Fanny packs and running belts are great; but what if you don't want to carry that bulky thing? Or just want something more discrete? One80 Pouch is for you. Perfect to carry your phone on a run and inconspicuous enough to wear with almost anything out to a movies or dinner. Wearing leggings or jeans? With or without a belt? You can comfortably wear any of these with the One80 Pouches.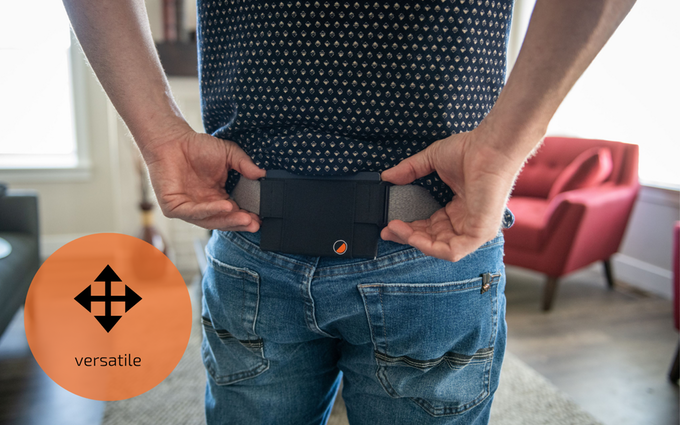 In front, in back, on the side? Or maybe partially on the side or somewhere in between. Wear your pouch how you like.  
Even if you're not wearing it on you waist it's perfect for the inner pocket of your backpack or purse. Have you ever lost your wallet to bottom depths of a bag? Use your pouch to keep it attached inside the bag exactly where you need it.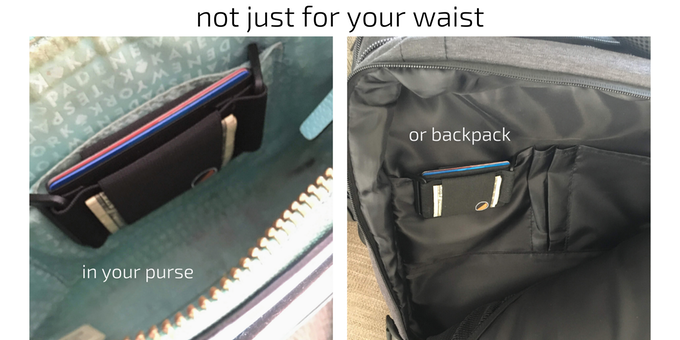 Inconspicuously wear your One80 Pouch wherever life takes you. 
True functionality happens so easily you don't have to think about it. Carrying items can be cumbersome and an obstruction. The One80 Pouch is truly functional. You can wear it to the gym and it won't get in the way of your workout. Wear it running and it will disappear into your running experience. It's time to leave those bulky phone holders that demand continual adjustment behind. 
The easy attached clips make putting on your One80 Pouch super easy. The clips are smooth and super low profile so they won't bother or annoy you while wearing your pouch. The design was tested over and over to ensure easy attachment and removal, yet tight enough grip and hold securely.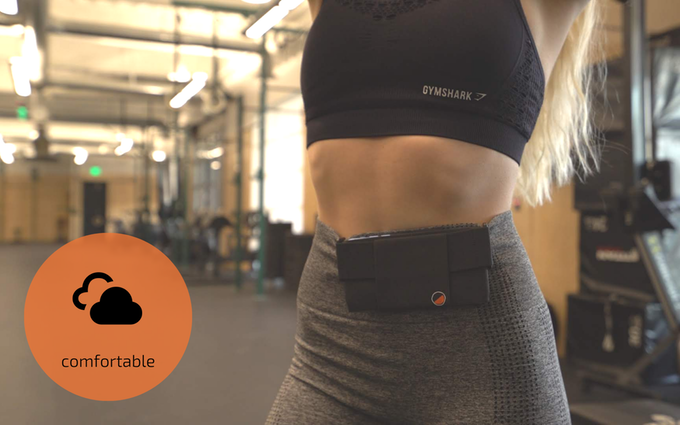 Less is better, especially when talking about comfort. And that's exactly what your going to get with your One80 Pouch; comfort. So much less to worry about and be bothered by. 
No belt. No bulky over-sized  bag. No straps covered in velcro. No magnets to hold it on. No zipper to fuss with. Pure and simple comfort.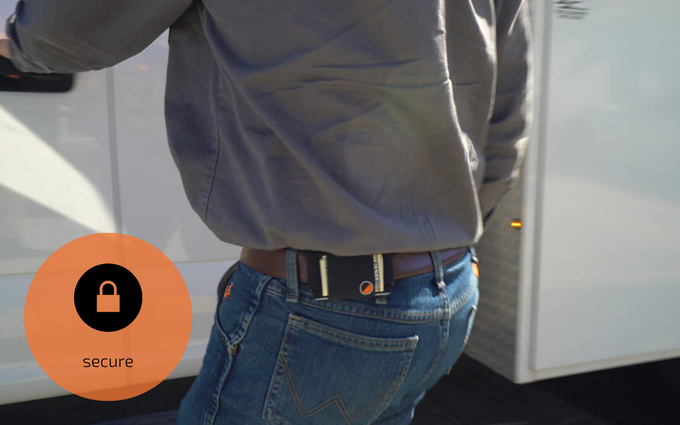 What makes these pouches so different from every other wallet, phone or passport holder? The easy on easy off propriety clips. So simple, yet made with precision to ensure your pouch will easily slip on to a waistline or belt, will hold secure, and then can be removed easily. 
Doesn't seem that difficult right? That's what we thought at first too.
We spent a year trying different ways of making this work and tested hundreds of clip variations. With each rendition removing or adding millimeters at a time and subtle shape modification before finally at what you see today.