Delivery & Payments
Searching C aims to deliver your items in the fastest time possible!
We ship your order via courier services for delivery. We will send you the tracking numbers once the parel is shipped out.
We accept credit card payment (including Visa, MasterCard and American Express) and Apple Pay.
Contact us
Email: sg@searchingc.com
Overview
PLANKPAD is an Interactive Bodyweight Trainer that offers you more than just static planking. Just connect your phone or tablet and enjoy amazing workouts and games. By playing games, your focus is more into the game, so you will plank much longer, reaching your goals faster while the time flies by having fun.
Prevent and get rid of back pain.

Get in shape.

Better posture.

Get a strong core.

Better motor coordination.

Increases the body's metabolism.

Burn fat.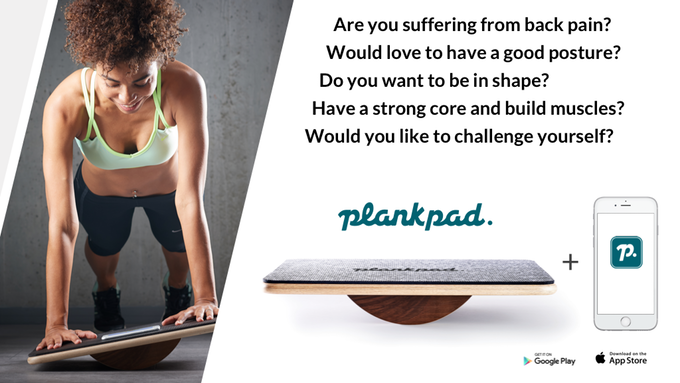 PLANKPAD is an interactive bodyweight trainer that offers you more than planking. You connect your mobile device (cellphone or tablet) and enjoy amazing workouts and games. By playing a game, your focus is more into the game than on counting every second. It makes you plank much longer, reaching your goals faster while the time flies by having fun.
About the plank exercise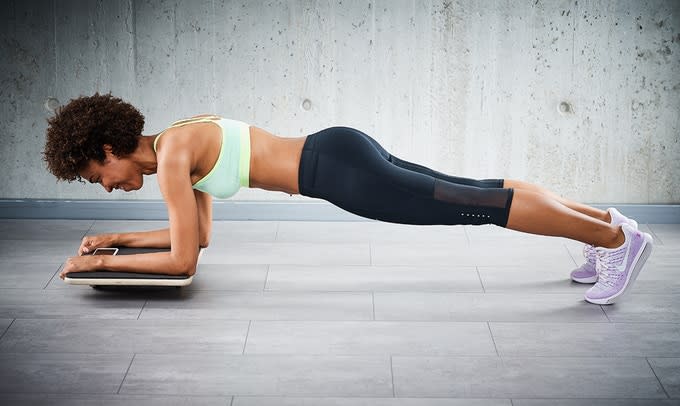 Benefits of Planking:
Prevent and get rid of back pain
Get in shape
Better posture
Get a strong core
Better motor coordination
Strengthen muscles
Builds abs
Increases the body's metabolism
Makes you burn fat
Planking is proven to be one of the most effective workouts to build a strong core, align the spine and activate many important muscles of our bodies at the same time.
Because the focus is on the core region, planking prevents and reduces lower back pain among many other injuries. You can conquer that desired six-pack and it also makes the amazing job of increasing the metabolism and burning calories while holding the plank position.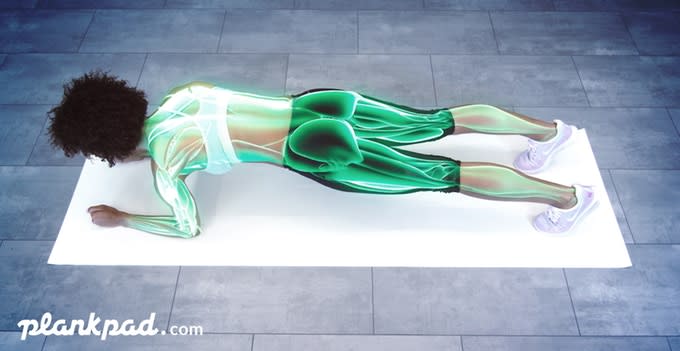 Activate many important muscles:
Neck
Arms
Shoulders
Chest
Abdominals
Back
Glutes
Legs
Dr. med. Nils Lynen (Orthopedic Trauma Surgeon) shares his opinion about Plankpad
Dr. med. Nils Lynen, specialist for orthopaedics and trauma surgery from the Praxiszentrum Nordrhein in Aachen, shared his opinion about how back pain can be cured, relieved and prevented with plank exercises and how much he likes the idea of the Plankpad. He recommends the dynamic plank workouts using Plankpad 3 - 4 times a week.
Right now he has one of our latest prototypes, to use it at the therapy of some of his patients.
Approximately 8 out of 10 people do suffer from back pain.
The Plankpad tested at the gym
After Plankpad was tested by around 100 people among family and friends, we took it to a famous gym in Cologne (Germany) to ask fitness experts and bodybuilders about their opinion.
We thought they would be very critical about playing games while exercising, but we were pretty surprised that even bodybuilders who are used to heavy and intense exercises also had much fun using the Plankpad with the smartphone app. They could also exceed their limits and challenge themselves while enjoying the game. In the end, everyone who has tried it out, wanted to own one for themselves.
Plankpad can be used as a Balance Board

The Plankpad can also be used as a Balance Board for:
Working your lower muscles out
Increasing your body balance
Motor coordination
Reaction time
Stability
and to prevent injuries
Therefore, we developed two games specifically for the use as a Balance Board
The app can be mirrored to surf or ski on your TV
Plankpad used as a balance board makes lots of fun on the big screen, when it is connected/mirrored via Apple TV, Chromecast, Samsung TV, etc.
And it is fun for kids as well! Children need lots of movement – and Plankpad helps them: simply click on the surfer or snowboarder game on the smartphone or tablet app, position yourself on the Plankpad and start surfing. That helps to develop the balance and strengthens the entire body.
Plankpad in detail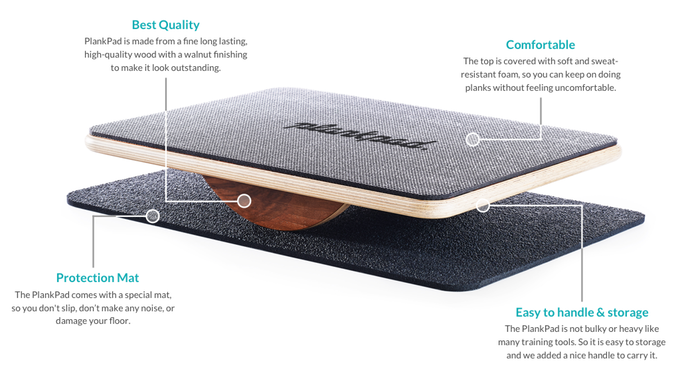 Plankpad itself is made of a fine long lasting and high-quality wood with a walnut finishing to make it look outstanding. The top is covered with a special foam where you can rest your arms to assure comfortable planking exercises. Plankpad comes with a special mat - so you don't slip, don't make any noise and to protect your floor. We also added a nice handle to carry the Plankpad.

Plankpad App with different Games and Workouts
We created a perfect fitting app that synchronizes the Plankpad between your smartphone. You can install it on your iOS and Android smartphone or tablet. It comes with many different workout challenges and games. To start an exercise, you just need to download the app, place it on the straight aligned PlankPad to synchronize and choose a game or a workout. The app also teaches you to do the perfect plank.
Different games keep you plank much longer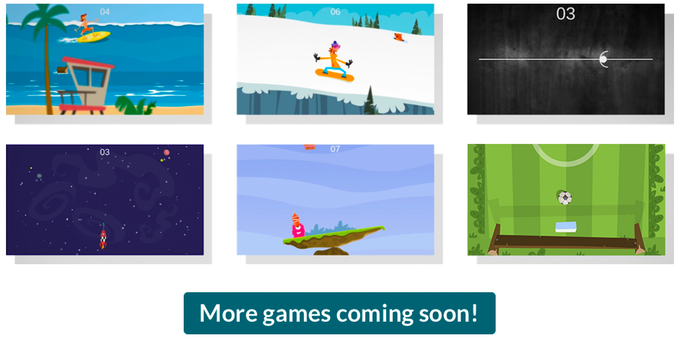 To play the game you have to balance the PlankPad left and right. The app and the gyroscope of your mobile device are in perfect sync with the Plankpad. There is a game for everyone like: Candy Monster, Circles, Asteroids, Wave Rider, and Snow Cruisin'. And in the future, there will be even more. The games will challenge you to last much longer, collect points, save your score and compete with your family or friends.
Multi-Planker Mode

We are working hard to bring more and more features to the Plankpad App. We thought what could be even more fun to plank against Friends and Family. That is why we want to bring the Multi-Planker Mode to Plankpad. So, in the future people can play games like Tennis against each other.
App with a special workout section
On the workout section, you find:
Many different plank positions
Tutorials teaching you how to do them and
Complete workouts divided in beginner, intermediate and advanced
You just need to follow the exercises and keep a correct posture. If you lose the position, the app will notice and comment on keeping a better balance.