Delivery & Payments
Searching C aims to deliver your items in the fastest time possible!
We ship your order via courier services for delivery. We will send you the tracking numbers once the parel is shipped out.
We accept credit card payment (including Visa, MasterCard and American Express) and Apple Pay.
Contact us
Email: sg@searchingc.com
Overview
Real-time auto-syncs microphone, Record & mix multichannel audio, Works with phone & DSLR.
Wireless stereo.

Real time auto lip sync.

48kHz CD quality.

Capture audio from 2 SmartMike+ to meet group

Work with DSLR.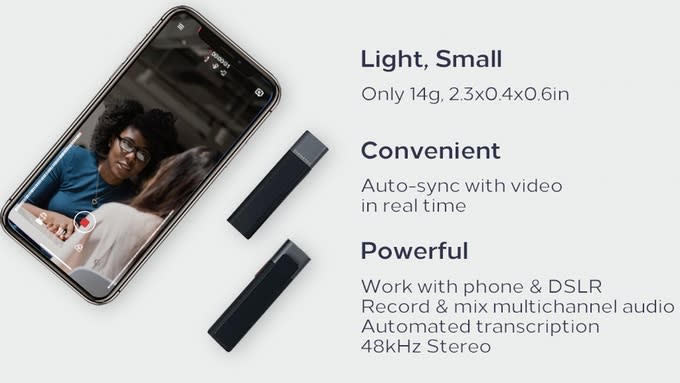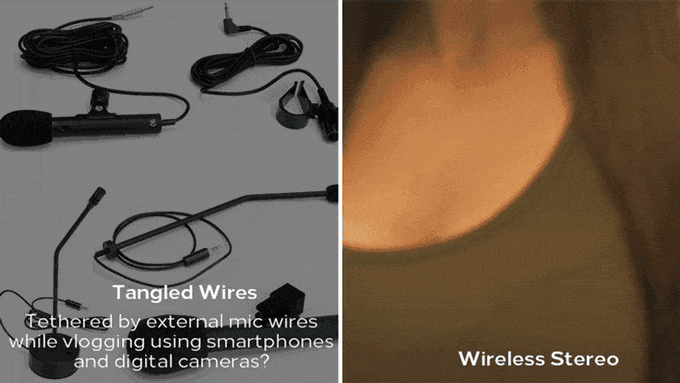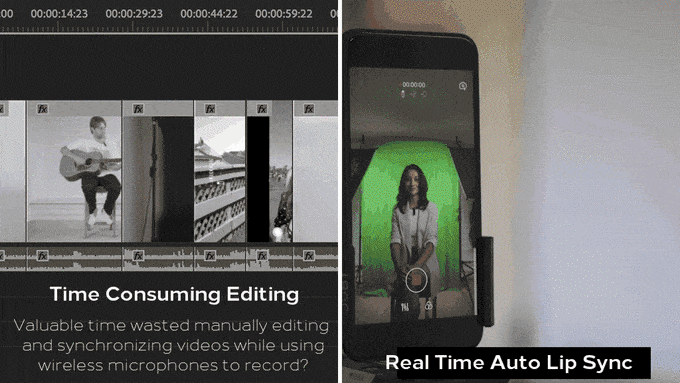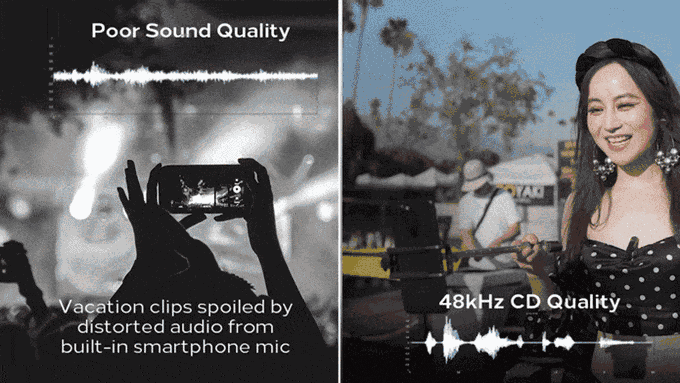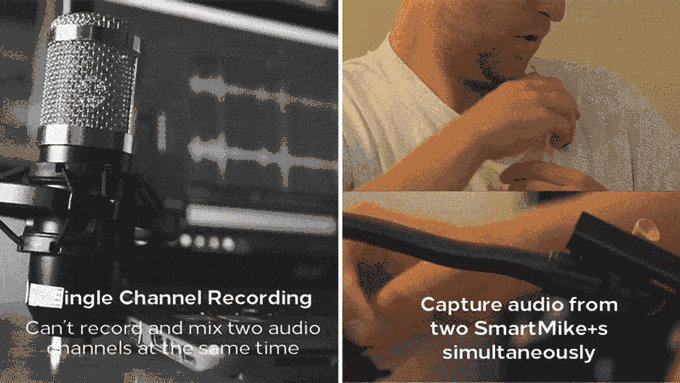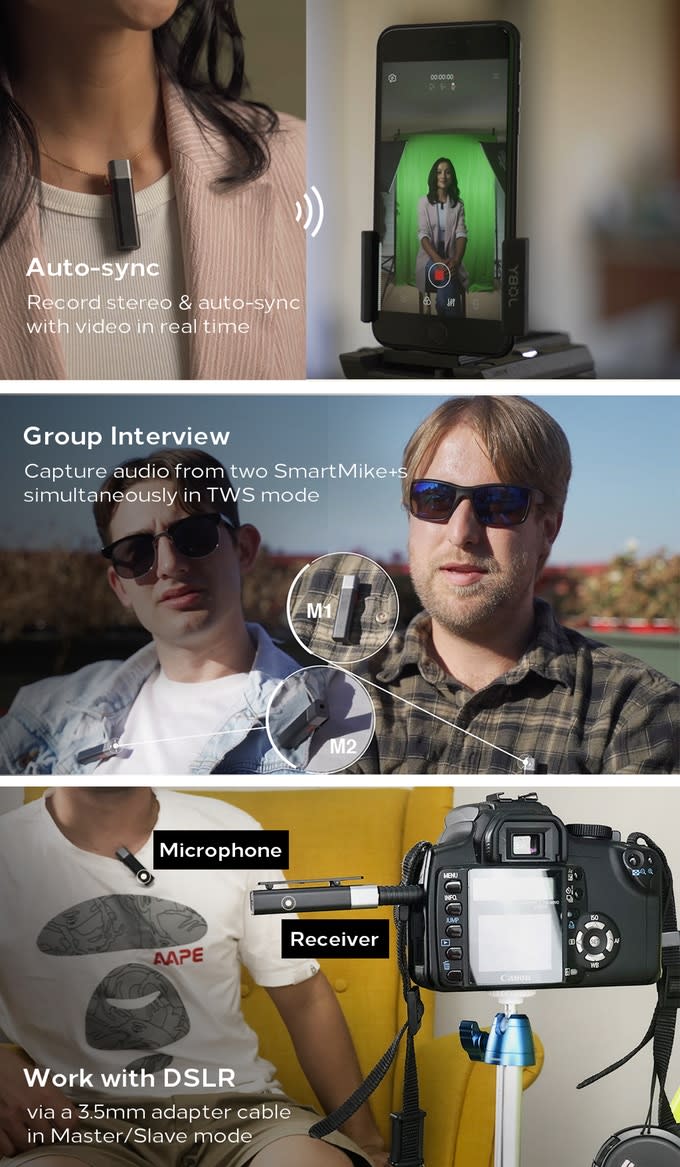 SmartMike+, a groundbreaking wireless microphone with realtime transmission and synchronization of full band stereo for vlogging, recording, remixing, voice-over, dubbing and more with smartphones.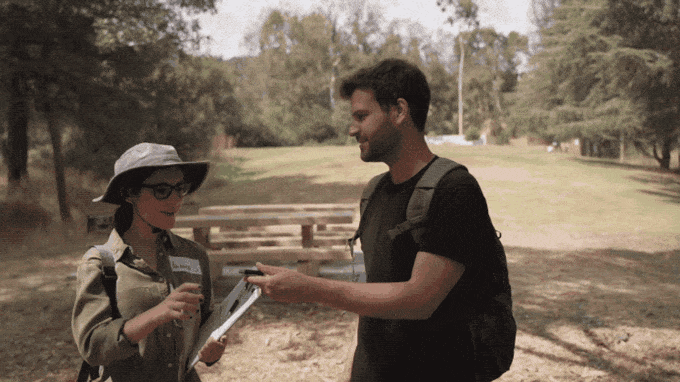 We have created it professional and easy for global content creators, filmmakers, videographers and journalists.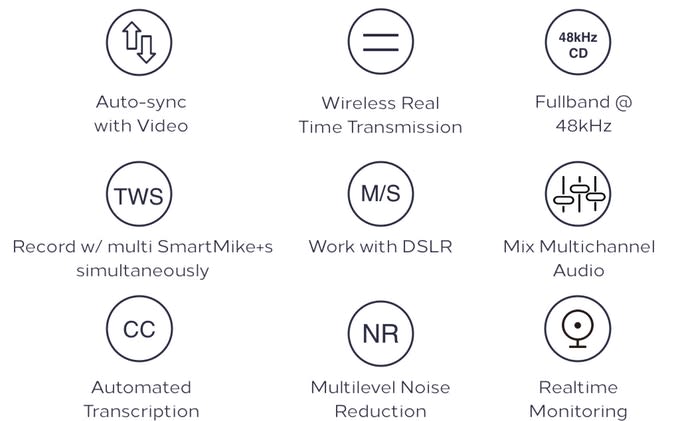 SmartMike+ is also the world's first mic that transmits wireless, multi-channel audio at ultra low-latency within a range of 15 meters, synchronize audio and video in real time. And the powerful SmartMike+ App support one-touch simultaneous output.
How does it sound?
SmartMike+ records full band audio at 48kHz -- more than six times the frequency of conventional mono microphones (e.g. Apple AirPods).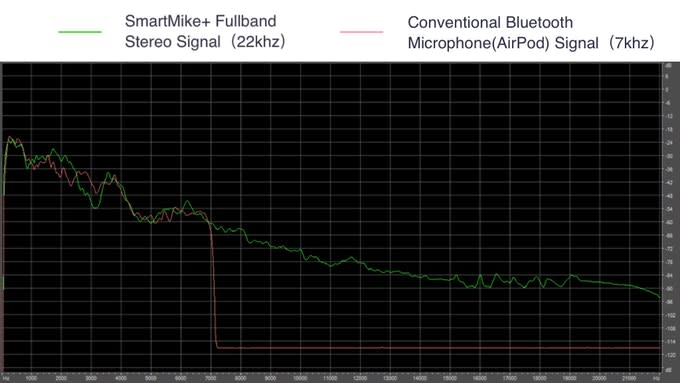 You can record audio from two SmartMike+s simultaneously (TWS Mode), which is ideal for group interviews, concerts, wedding receptions or other large venues and events.
How does it sound?
Simply pair two SmartMike+s with the SmartMike+ App via Bluetooth, the App will automatically switch to TWS mode.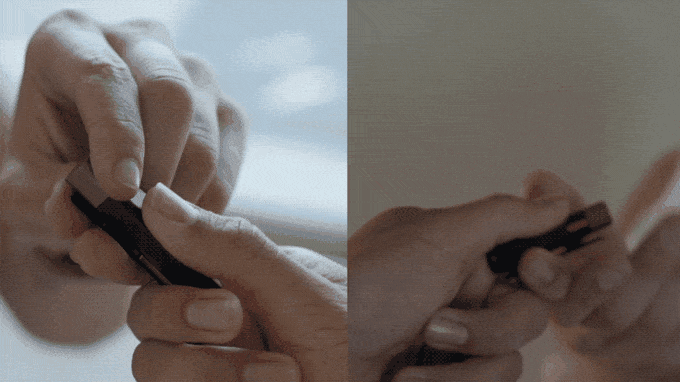 SmartMike+ allows you to mix audio from different audio sources in real time. Using your smartphone to create and remix lip sync, music, and dance videos (with your favorite music, shows, and movies) has never been easier!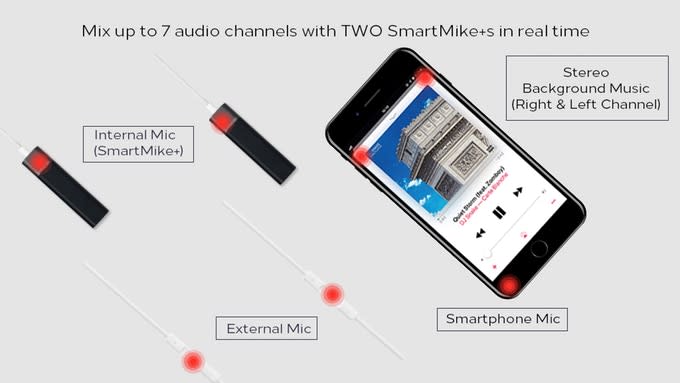 Mix up to 7 audio channels with TWO SmartMike+s including:
Internal mic of SmartMike+;
An optional external mic via the 3.5mm AUX;
The built-in mic on your smartphone;
The stereo background music streamed via A2DP by any third-party streaming App. (Right & Left channel)
Note: iOS - pair with 2-4 SmartMike+s simultaneously. Android 9.0 and above - pair with two simultaneously.

With an embedded intelligent algorithm SmartMike+ is always prepared to record optimum acoustics by reducing sounds like wind or background noise such as people chatting.
Multiple approaches for Noise Reduction:
Multi-level noise reduction embedded algorithm control by the SmartMike+ app.
Windshield for outdoor usage in case of strengthening or actual strong winds/gusts.
An unidirectional microphone is preferable when louder background noise and interference is present.
Comparison of the noise reduction performances between SmartMike+ and Rode Wireless Go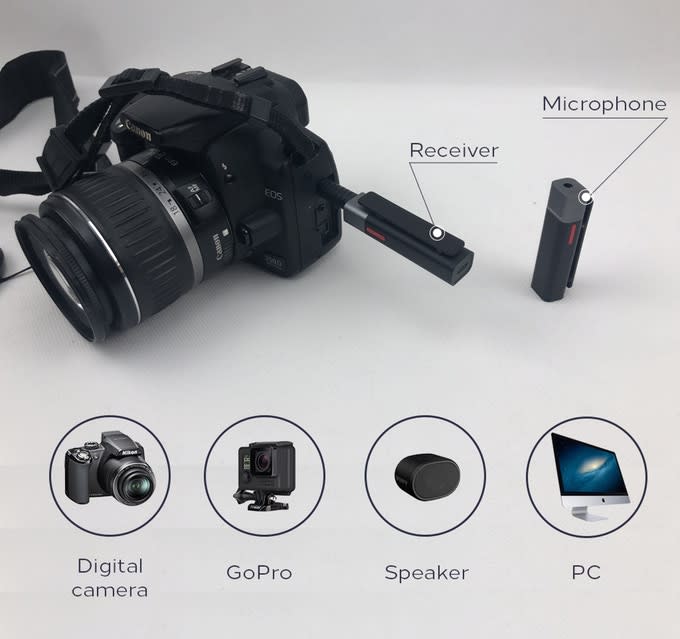 In powerful M/S (Master/Slave) mode, SmartMike+s can be used with any video recording devices to capture studio quality audio that matches the equally professional video; or with any speakers to amplify the captured audio. Simply hook up one SmartMike+ to your digital camera/ GoPro/ PC/ speaker via a 3.5mm 3-pole male-to-male AUX cable to act as a receiver. Long pressing the button for 10s to pair this SmartMike+ with another (to act as a microphone) via Bluetooth.
Note: For optimal performance from a loudspeaker, please make sure to use an external unidirectional mic along with the SmartMike+ (the microphone) to suppress howling.

SmartMike+s can also be used in the same way with any third-party App on a smartphone, such as Filmic-Pro, Tiktok, Facebook Live, YouTube Live, etc. Please use a 3.5mm 4-pole male-to-male AUX cable instead to hook up the receiver SmartMike+ to your smartphone.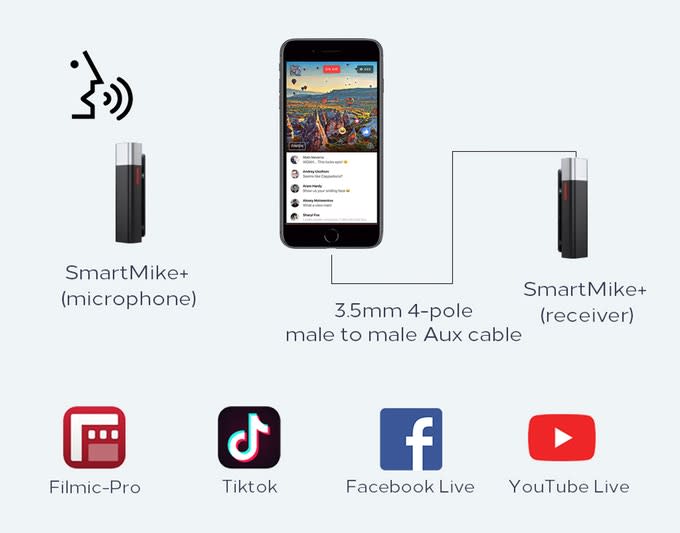 This test video is personally made by Sabinetek founder/CEO, Dr. Zhang, in an A/C room using SmartMike+ to record video & audio and Sony ECM-AW4 to capture audio at the same time without any post processing. By comparing the audio track from two microphones, a conclusion can be drawn that Sony ECM-AW4 records much more noises than SmartMike+. SmartMike+ records much clearer audio devoid of the running noise of the A/C.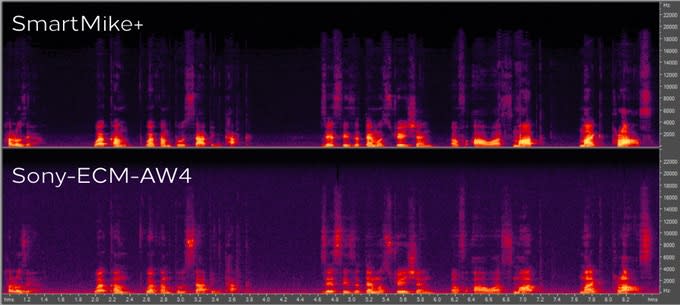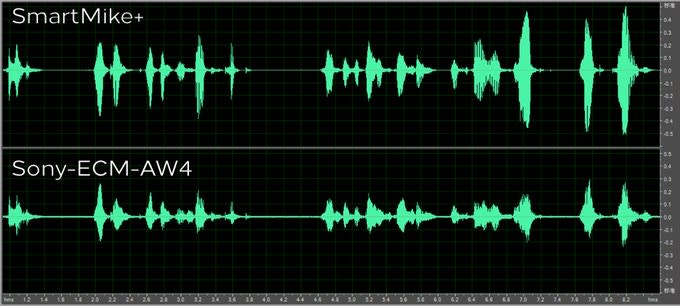 SmartMike+ recognizes, auto transcripts, and auto generates subtitle files for over 100 languages.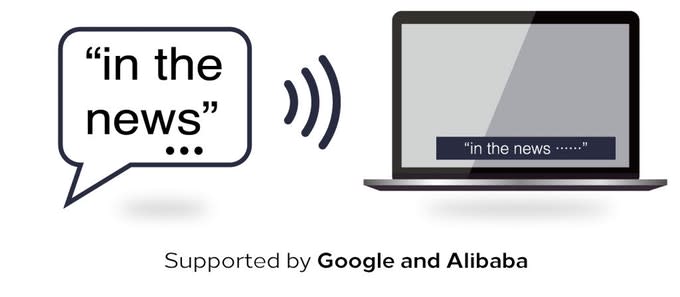 SmartMike+ works with 3.5mm earphones for real time monitoring. Listen to the background music and your own voice, it is best for recording dancing tutorial, or even creating your personal music video.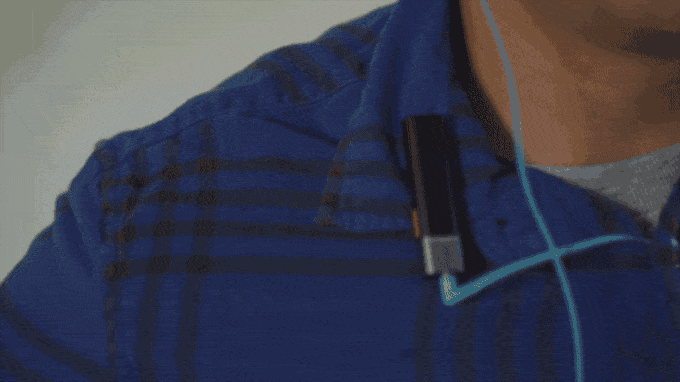 Press the button on SmartMike+ to start/end recording. During recording, you can easily switch between front and rear camera or pause/resume BGM by a simple double-click of the button on SmartMike+.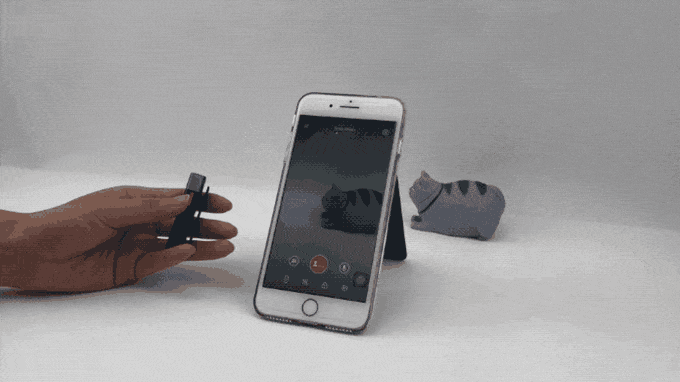 SmartMike+ comes with free iPhone and Android apps that gives you total control over your audio and video creation and content. The latest apps and updates for your SmartMike+ can be effortlessly downloaded via OTA.