Delivery & Payments
Searching C aims to deliver your items in the fastest time possible!
We ship your order via courier services for delivery. We will send you the tracking numbers once the parel is shipped out.
We accept credit card payment (including Visa, MasterCard and American Express) and Apple Pay.
Contact us
Email: sg@searchingc.com
Overview
It's true, VH-80 is the world's first bilateral LDM. Let us show you how awesome it really is.
Total of 5 internal auto calculation modes for your convenience.

Quickly calculate the Area of your space.

Acquire the Volume of a space with three consecutive measurements.

an indirect measurement by measuring two sides of a triangle to acquire the third

.

VH-80 is the world's first bilateral laser distance measurer. By re-thinking the way measurements can be made, we shifted the focal point to you, so you can easily determine the length from where you are standing.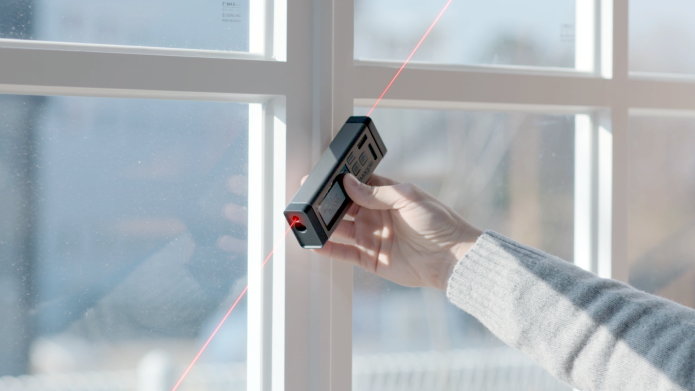 VH-80 is a bilateral laser measuring device.
VH-80 shoots two pulses of laser light from two sources in opposite directions and measures the amount of time it takes for each pulse to bounce back to its accompanied sensors. Since light moves at a constant, VH-80 can calculate the distance between itself and the targets with high accuracy.
Why Two?
Two laser diodes mean VH-80 can take three measurements per single action: the left, right and total combined. Therefore, when measuring multiple lengths, the advantages to using VH-80 is exponentially increased, reducing your moves by factor of three.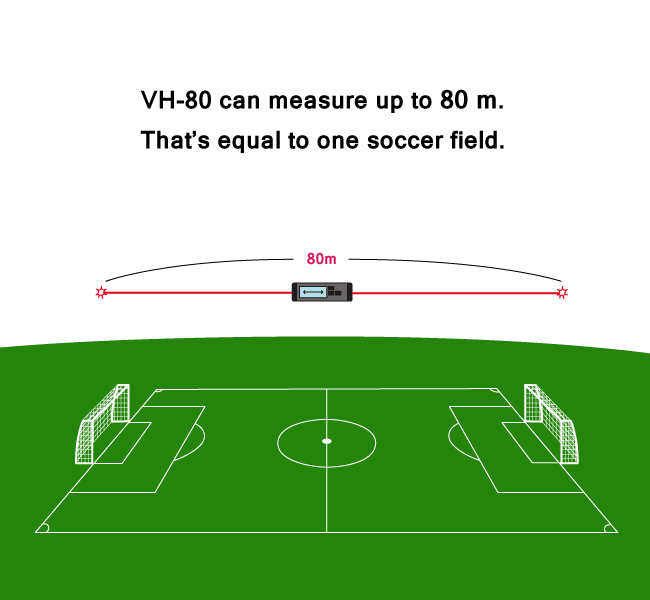 VH-80's measurement covers a total of 80 meters. That's the length of a soccer field. How fast can you run across the field and back to retrieve your tape measure? Get it done in a second with VH-80.
The Time Saved is Incomparable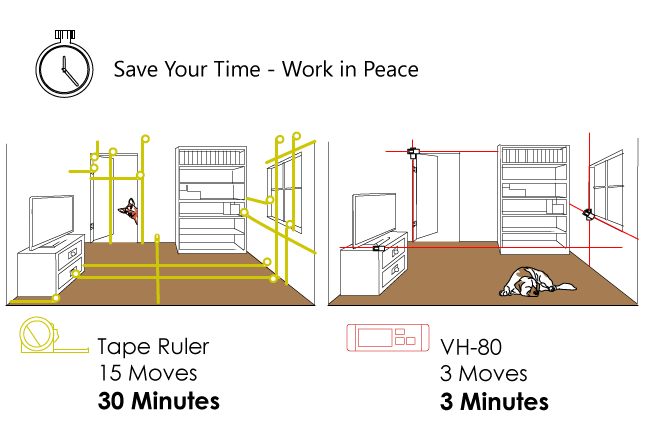 You can save significant time by effectively reducing your need to travel to various references points required by one directional devices.
An Extra Hand in Your Pocket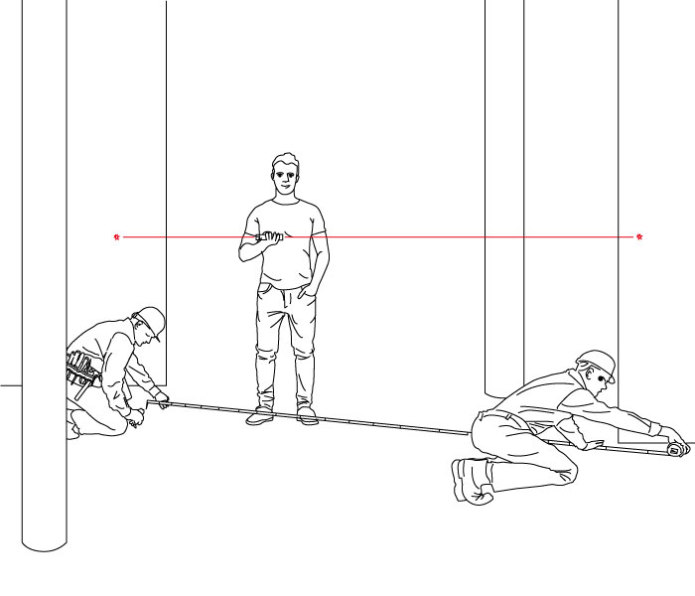 Being free in position also means highly improved quality in safety and mobility. Not having to crouch to the floor or set on a ladder may seem like a minor improvement for a single measurement, but often we are measuring more than one length.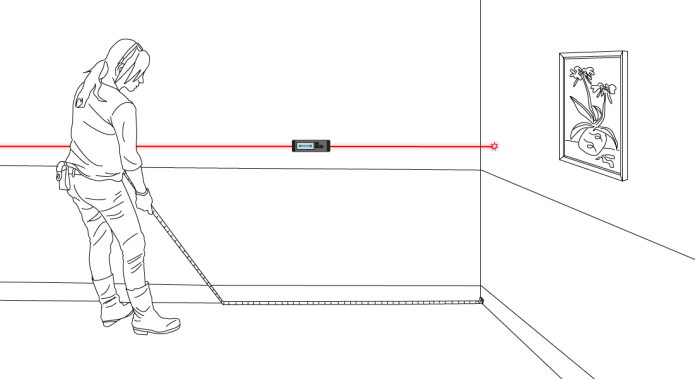 Make taking measurements the easiest part of your job.
VH-80 is really makes it comfortable when you have to repeatedly get down or constantly move the ladder to travel across the space. We are hoping that VH-80 can help and revive passion in folks who have been shy from working on new projects because of physical discomfort or inconvenience as well.So that's some very little changes VH-80 can bring to your life.
Simple little things like time, safety, and resources - the trifecta of a project investment. No big deal !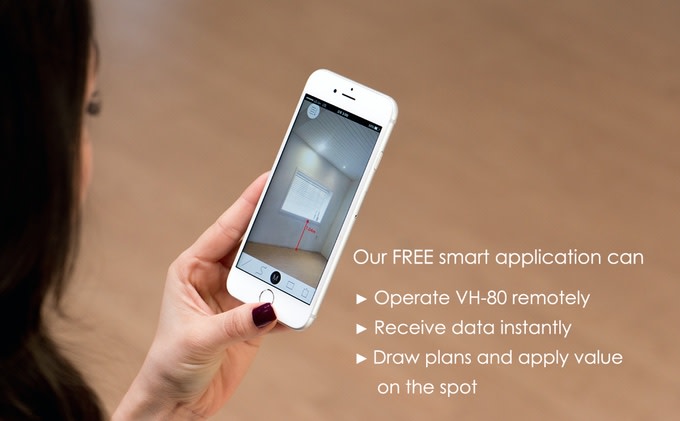 When we make measurements, we usually need to do it more than once. VH-80 has an internal memory that keeps a record of up to 9 measurements. But guess what? Welcome to 2017. We have an app for that. Your smart device receives data live from VH-80 through Bluetooth 4.0, and with the internal memory of a smart device, the number of measurements you can save is practically infinite.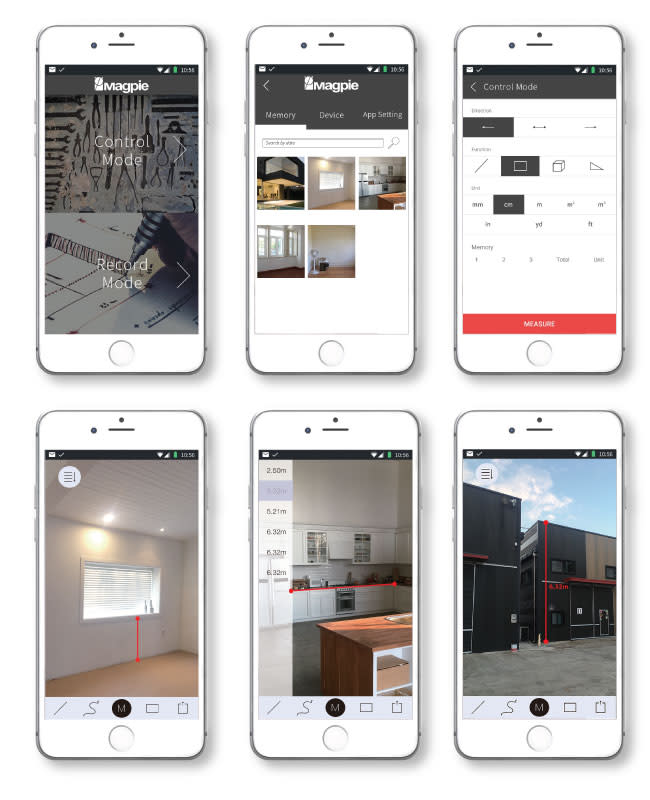 But here's the really cool thing about the app. You can quickly construct plans of your measuring activity directly on a photo reference.
The goal with the app is to streamline and effectively organize your measurement activities on the spot. Too many measurements can be hectic even if it's automatically ordered. And jotting down a sketch of a plan requires multitasking that largely hinders your work efficiency. That is why VH-80 with its smart application is an ideal upgrade to your process. Just measure, drag and drop. That's all it takes!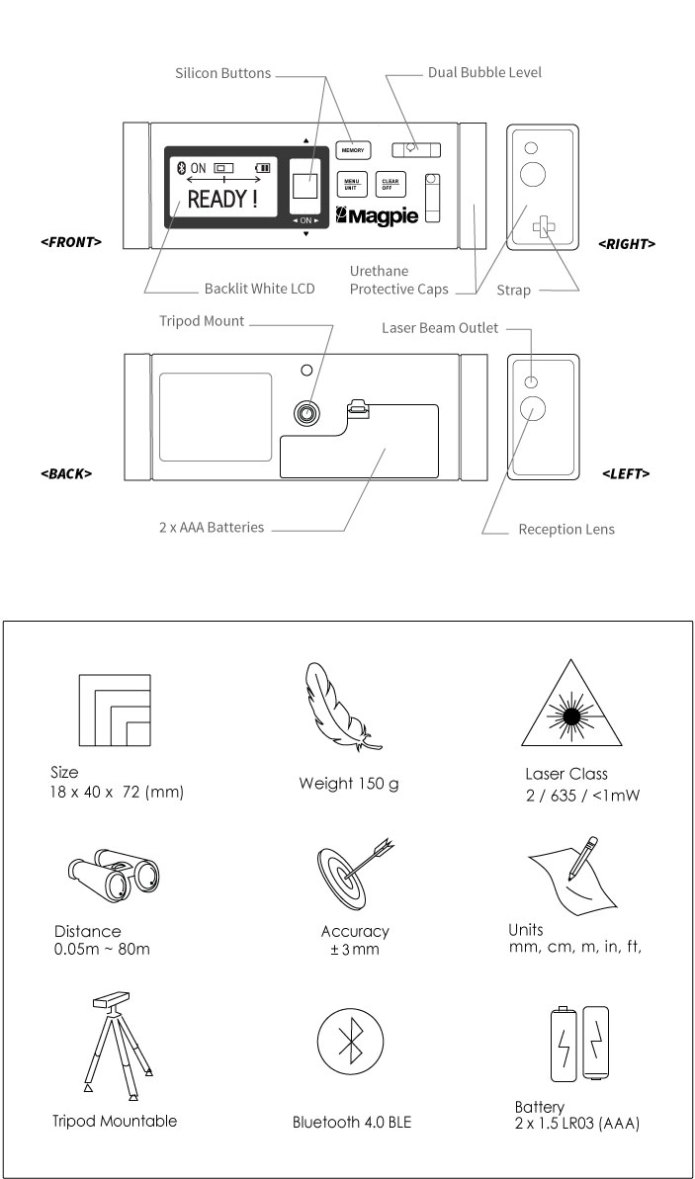 1 year warranty